Used together, NoemaLife's FDA cleared HALIA middleware and the Labotix®, Rapid Response Universal Specimen Handling (RRUSH®) system offer a unique turn key solution for seamless workflow management in clinical chemistry laboratories.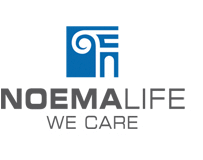 Working live at AACC booth #2230, NoemaLife and Labotix demonstrate how the products can improve laboratory efficiency, compliance and quality control. The two companies are co-marketing this solution in North and South America, Europe and the Middle East.
Andrea Chiapponi, Managing Director of NoemaLife S.p.A., said "HALIA and the Labotix Open Automated Solution provide laboratories with a unique system that can be customised to suit individual requirements. It is not restricted to specific vendors so will appeal to separate labs or multiple labs in different locations that wish to merge. We are excited about the partnership with Labotix and the benefit this brings to our customers."
NoemaLife's HALIA Middleware, now available in the US, uses a powerful rule-based engine to provide a fully functional response to the needs of laboratories during daily workflow management. The complete web-based computerisation system allows central management and connection of every analyser through a single interface on any workstation. HALIA supports the Labotix RRUSH system, which itself enables sorting and delivery of all specimens to all analysers anywhere in the laboratory. When brought together the systems provide greater quality control, reduce operator error and make working with high volumes easier to manage.
John Gustafson, President and CEO of Labotix Automation, Inc said "The partnership between the two companies is an important step in supporting laboratories as they integrate diverse technologies into a single total lab automation solution. Hospitals and laboratories are having to explore innovative processes to reduce costs and increase efficiency. Together we will give customers the opportunity to have a completely flexible system that will be reliably consistent, saving time and money while extending the useful life of the system."
For further information about NoemaLife visit
www.noemaLife.com
. For more about Labotix please visit
www.labotix.co

About NoemaLife
NoemaLife is a leading provider of clinical and hospital IT Software Solutions, dedicated to the enhancement of workflow automation, cost savings and quality of care at every level of the healthcare delivery process. It has been listed on the Italian Stock Exchange (MTA) since 2006 (NOE-ISIN IT0004014533).
NoemaLife, which employs a staff of 700 qualified professionals worldwide, has a direct market presence in Italy, Germany, France, United Kingdom, Belgium, Argentina, Chile, Japan and the United Arab Emirates. It also operates in Latin America, Northern Europe and Australia through a distribution network. Thanks to its acquisition in 2011 of a majority stake in the French group Medasys, NoemaLife consolidated its role as leading European vendor of IT solutions for clinical processes.
The NoemaLife Group closed 2011 with consolidated sales of 48.5 million euros (+13% on 2010).
About Labotix
Labotix Automation, Inc. is a leader in open architecture laboratory automation and offers a broad range of innovative devices for hospitals and reference laboratories. With customers around the world, Labotix provides the most flexible, open automation solution for today's clinical laboratory. Open automation allows the laboratory to sort and deliver all specimens to all analyzers from any vendor, anywhere in the laboratory. While other vendors focus on analyzers and reagents, Labotix is focused solely on laboratory automation and efficiency, empowering the customer to choose the best of breed analyzers for their specific needs. Combining these analyzers with Labotix's powerful user-defined process control software enables laboratories to have an optimized system designed to evolve with their patient care needs. Labotix has been automating laboratories for over 19 years, with installations around the world. Labotix has the experience, expertise, and reliability necessary to meet the needs of any size laboratory.