Organised by The Chromatographic Society and the Separation Science Group of the Analytical Division of the Royal Society of Chemistry and Accredited by the Royal College of Pathologists*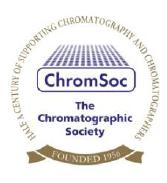 This meeting celebrates the forthcoming retirements of Prof. Robert Flanagan from the RSC Separation Science Group and of Prof. David Perrett from his position at the William Harvey Research Institute, Barts and the London School of Medicine, QMUL, London.
After the success of recent Clinical analysis meetings the Chromatography Society and Separation Science Group of the Royal Society of Chemistry are pleased to announce a new meeting with a full and exciting topic and speakers program. The one day meeting will be held at Guys and St Thomas' Hospital, London, UK, and will facilitate delegate and exhibitor access to a wide range of scientists.
Clinical analysis is one of the most exciting and important areas within the various domains in Life Sciences and Industry. The meeting will provide an insight in the latest methodology and technology developments in clinical analysis and in particular in the field of blood spot analysis. Clinical analysis is a wide ranging and complex subject area, but as we move to more complex and difficult clinical analyses, much is now being asked of the methodologies/techniques in terms of the specificity, sensitivity and simplicity and also productivity, in terms of both speed and cost.
The meeting sets out to look at separation and complementary/alternative techniques along with case studies from the hospital and academic areas. The program has been designed to give attendees an update for both routine and problem solving in clinical analysis. The meeting will also focus on the opportunities and perspectives within the wider area of clinical analysis.
*This meeting is accredited for 4 CPD points (not including refreshment breaks). Delegates can claim an extra point for vendor presentations, if educationally beneficial, by self-accrediting in their CPD portfolios.
For further information
click here
to download the event programme or visit
www.chromsoc.com