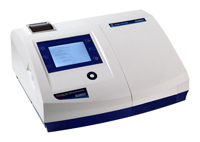 Jenway's 67 series of UV/visible scanning spectrophotometers offer high quality split beam optics for optimum photometric performance. With five measurement modes, secure multi-user operation, excellent data portability and a wide range of easy-to-fit accessories these advanced instruments can be customised to meet individual requirements.
The 67 series has a host of novel features including a colour touch screen display which gives a fast, flexible interface and where fine cursor control is required, the QWheel makes the task easy and precise. Jenway have developed secure multi-user operation for when instruments are shared by a number of users. For maximum security PIN codes can be allocated to individuals, groups or departments and to further increase flexibility each method can be given three levels of security depending on your requirements.
The high capacity internal memory of the 67 series enables over 500 methods and results to be stored. Results and methods can also be saved to removable SD cards enabling easy cloning of multiple instruments, ensuring common laboratory practice and speeding set-up in busy teaching establishments.
There are three models in the range, these include Model 6700 which covers a wavelength range of 320 to 1100nm and has a spectral bandwidth of 4nm. Models 6705 and 6715 cover a wavelength range of 190 to 1100nm and have a spectral bandwidth of 4nm and 1.5nm respectively.
These instruments are covered by a three year warranty which includes the xenon lamp.
For further information please click here