Easy-to-use, new generation of polymeric SPE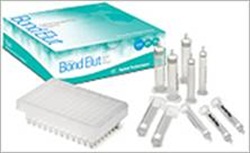 The Plexa
TM
family of amide-free, polymeric SPE products provide a generic, sample independent route to cleaner extracts. This simple approach
means minimal method development saving you both time and cost.
The tighter control of particle size distribution elimates small fines to prevent blockage meaning Bond Elut Plexa
TM
can be used even with the most complex matrices.
Available in cartridge and well-plate formats, Plexa
TM
polymers are available for a wide variety of analyte polarities, as well as cationic and anionic samples.
Where absolute analyte specificity is required, the Bond Elut family also includes silica based SPE sorbents for reversed phase, normal phase, ion exchange and mixed mode separations.
Crawford Scientific (Strathaven, Lanarkshire, UK) offers the full range of Bond Elut products, alongside an extensive applications database. Call or e-mail to check if we already have a method for your separation - we can assist you to achieve cleaner, more concentrated extracts for less cost per sample.
For more information
click here