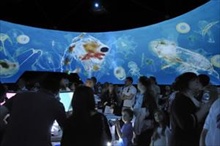 Dr Richard Kirby, Royal Society Research Fellow at Plymouth University and best-selling author with his book 'Ocean Drifters', is enjoying a summer of success helped by Carl Zeiss.
His image of the Planktonic larval stage of the starfish Luidia sarsi was selected by the Royal Photographic Society for their International Images for Science Exhibition 2011, which opened in Bath on September 2nd. This follows his images appearing on the windows of Selfridges for their 'Project Ocean' event and his star attraction display at the Royal Society Summer Exhibitions with 'Ocean Drifters - a secret world beneath the waves'. This 360° film, narrated by wildlife legend Sir David Attenborough FRS, shrinks audiences to the size of a grain of sand to show plankton at 4,000 times their usual size.
In all cases the images were captured using Carl Zeiss microscopes. And, audiences at the Ocean Drifters film, which was sponsored by Zeiss, were also able to see live plankton samples under Carl Zeiss microscopes.
The exhibit is based on Richard Kirby's surprise best-selling book, Ocean Drifters, which contains dozens of amazing micrographs of the beautiful plankton. On the massive 360 degrees screen, the minute sea creatures appear as four metre long monsters and highlight the abundance of life contained in the top few feet of the world's oceans.
"Plankton are hugely important and I am very privileged to try and help inform people about them," says Richard Kirby. "Go for a walk across the South Downs and the chalk underneath your feet is the remains of plankton deposited beneath the seas over 65 million years ago. It is plankton that give the sea its distinctive smell - "sea air" - because certain phytoplankton give off aromatic chemicals when they die. They are even responsible for forming clouds, because the same chemicals when in the atmosphere cause water droplets to form around them.
"The importance of plankton on a global scale is obvious when you realise that they underpin all sea life, that 50 per cent of the world's photosynthesis takes place in the surface of the sea, sequestering carbon from the atmosphere into the oceans, and plankton play a central role in the global carbon cycle."
To complete the summer of success, the book has just been released in the US by Firefly.
For more information about Carl Zeiss visit
www.zeiss.co.uk