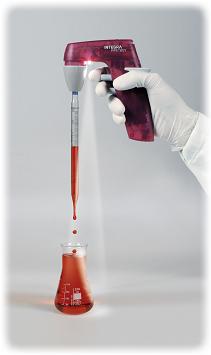 The new INTEGRA PIPETBOY pro pipetting aid unites all essential characteristics for productive work with serological pipettes: accuracy, speed and comfort.
Designed for comfortable and error-free pipetting - a new integral white LED light in the PIPETBOY pro provides optimal illumination of the area around the pipette, ensuring accurate pipetting and preventing eyestrain even when dispensing liquids out of an opaque centrifuge tube or dark container.
The PIPETBOY pro enables the user to quickly, accurately and reliably dose liquids just by applying variable finger pressure on the pipettor trigger buttons, changing between drop by drop dispensing or fast motorized pipetting at a adjustable speed of up to 10 ml/ sec. Weighing just 190 grams and ergonomically designed to comfortably fit in your hand, the PIPETBOY pro makes even prolonged pipetting effortless.
To learn more about PIPETBOY pro visit
http://www.pipetboy.info/
.
INTEGRA is a leading provider of high-quality laboratory tools for liquid handling, media preparation, sterilization and cell cultivation. We are committed to creating innovative solutions which fulfill the needs of our customers in research, diagnostics and quality control within the life science markets and medical industry. INTEGRA, comprising INTEGRA Biosciences AG and the Viaflo Corporation, maintains a worldwide network of over 90 independent highly trained distribution partners. INTEGRA Biosciences AG is headquartered in Zizers, Switzerland; Viaflo Corporation is located in Hudson, NH, USA.
For further information about PIPETBOY pro please contact INTEGRA Biosciences AG on telephone +41-81-286-9530. In the USA please contact Viaflo Corporation on telephone +1-603-578-5800