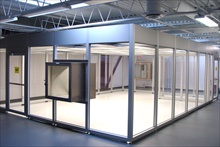 Diba's new class 10,000 cleanroom ensures that customers whose products are highly sensitive to environmental contaminations will receive components that meet or exceed their cleanliness requirements and expectations.
The new cleanroom is a hard wall 20' x 30' ISO 7 single pass cleanroom with dual 36" pass-thru ports and a gowning room. The facility provides a contaminant-free manufacturing environment for the company's probes, fluid heaters and custom fluidic assemblies. Air inside the cleanroom is filtered using high efficiency particulate air (HEPA) and ultra-low particulate air (ULPA) filters to remove internally generated contaminants. Additionally, workers wear protective clothing such as gowns, caps, booties and gloves to further maintain product cleanliness.
For more information, visit
www.dibaind.com
or call +1 203-744-0773.