The F250 Compact Recirculating Cooler by JULABO provides increased cooling performance. The new upgraded version features a wider working temperature range from -10 °C to +40 °C.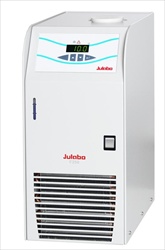 The compact recirculating coolers of the F series by JULABO master almost any application in laboratories and industry. The compact recirculating cooler F250 was upgraded technically and now covers a wider working temperature range from -10 °C to +40 °C. All F series product parameters and advantages have been retained. The precise control monitors the temperature with a stability of ±0.5 °C. The powerful pump supplies 15 l/min at 0.35 bar. The filling port for the bath fluid is on the top and easy to reach. The compact, space-saving design permits flexible positioning on or beneath laboratory benches. All JULABO instruments have frontal vents which permits placing the instruments right next to other equipment saving additional space.
Thanks to its efficient, energy saving operation, the compact recirculating cooler F250 is the ideal choice for replacing tap water in cooling applications. This no cost technical improvement makes the F250 a performance bargain.
For further information on the compact recirculating cooler F250 click here.