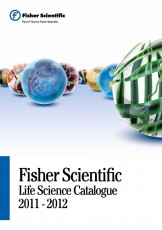 Fisher Scientific, part of Thermo Fisher Scientific Inc., today announced its new Life Science Catalogue 2011/2012.
The new Fisher Scientific Life Science Catalogue offers a comprehensive selection of more than 14,000 essential life science products, 3,600 of which are completely new. With nearly 1,400 pages, the catalogue is the single source for life science laboratory products.
Key features of the new catalogue include:
Quality, market-leading brands.
Colour-coded sections, by application area, for ease of use.
Application-specific sections that contain all the products required for a specific application. The Tissue Culture" section, for example, contains plastics, media, incubators, accessories and reagents.
Application workflows at the start of each section to simplify product decision-making.
Multiple coverage areas including cell extraction and lysis, microbiology, DNA amplification, protein purification, electrophoresis, histology, protein analysis, modification, interaction, and much more.
To request a copy of the Fisher Scientific Life Science Catalogue 2011/2012, please visit www.fisher.co.uk.
Fisher Scientific is part of Thermo Fisher Scientific, the world leader in serving science.
About Thermo Fisher Scientific
Thermo Fisher Scientific Inc. (NYSE: TMO) is the world leader in serving science. Our mission is to enable our customers to make the world healthier, cleaner and safer. With revenues of nearly $11 billion, we have approximately 37,000 employees and serve customers within pharmaceutical and biotech companies, hospitals and clinical diagnostic labs, universities, research institutions and government agencies, as well as in environmental and process control industries. We create value for our key stakeholders through two premier brands, Thermo Scientific and Fisher Scientific, which offer a unique combination of continuous technology development and the most convenient purchasing options. Our products and services help accelerate the pace of scientific discovery, and solve analytical challenges ranging from complex research to routine testing to field applications. Visit www.thermofisher.com.