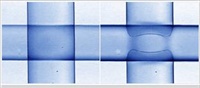 Fluidigm has announced that its Singapore factory has now manufactured and shipped more than 1 billion microscopic NanoFlex
TM
valves. Each NanoFlex valve is so small that it takes 10 to span the width of a human hair. The billion valves built into Fluidigm's integrated fluidic circuits (IFCs) are equivalent to the number of valves required for all the conventional plumbing for every home in California, Texas and New York (the three most populous states in the United States of America).
Fluidigm's NanoFlex valves stop or release the flow of liquids containing genetic samples and reagents in microfluidic chips used in life science research. These valves provide precise control over complex fluid-handling steps without losing reliability. Scientists use IFC technology embedded with thousands of these NanoFlex valves to explore everything from single cell genomics to the traits of tomatoes being grown for the local grocery store shelf.
"No other microfluidic supplier can provide the precision and control we deliver every day with our NanoFlex valves. It is one of our key inventions that differentiate Fluidigm's integrated fluidic circuits from other microfluidic options. It allows us to supply leading life science researchers around the globe with technology that enables them to solve some of the most complex problems in life science," said Gajus Worthington, Fluidigm president and chief executive officer. "This technology is revolutionizing many facets of life science by making existing workflows dramatically faster, better, cheaper and easier to use while being able to control elements as small as a single cell."
In 2005, Fluidigm opened Singapore's first biochip factory and it is now the world's leading manufacturer of microfluidic devices. Today, the Fluidigm factory manufactures all the integrated fluidic circuits and scientific instruments/systems for the company, and conducts research and development in coordination with the company's South San Francisco operations.
"It is a significant accomplishment to take this amazing science that Fluidigm has developed and turn it into an engineered, manufacturable, high-volume, high-quality product," noted Mai Chan (Grace) Yow, Fluidigm vice president of worldwide manufacturing and Fluidigm Singapore's managing director. "It took a dedicated team of people with the drive, passion and commitment to be the best, and sustain that effort over many years, in order to build a billion NanoFlex valves. A billion of anything, even microscopic valves, is a lot," Yow added.
Fluidigm (NASDAQ:FLDM) develops, manufactures and markets microfluidic systems for growth markets in the life science and agricultural biotechnology, or Ag-Bio, industries. Fluidigm's proprietary microfluidic systems consist of instruments and consumables, including integrated fluidic circuits, or chips, and reagents. These systems are designed to significantly simplify experimental workflow, increase throughput and reduce costs, while providing the excellent data quality demanded by customers. Fluidigm actively markets three microfluidic systems including eight different commercial chips to leading pharmaceutical and biotechnology companies, academic institutions and Ag-Bio companies.
For more information, please visit
www.fluidigm.com
.
"Fluidigm" and the Fluidigm logo are trademarks or registered trademarks of Fluidigm.