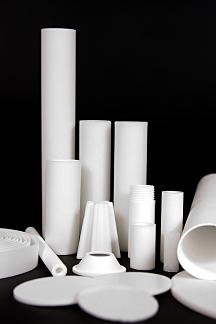 Porvair Filtration Group, a leading filtration company with considerable experience in the powder handling industry, offers an extensive range of high performance materials enabling it to provide an optimal solution to solve most fluidization applications.
The fluidization of powders, using compressed air through a porous media to make them flow like liquids, is a process used in many industries. Applications for powder fluidization are widespread in the pharmaceutical, food, beverage and construction to move powders such as drugs, flour, plastics and cement, as well as to efficiently empty silos, road and rail tankers.
A new brochure (
www.porvairfiltration.com/view/PorousMediaAndMaterials.aspx
) describes the wide range of advanced material technologies that Porvair Filtration Group can bring to the powder handling industry. Drawing upon its proprietary Vyon® sintered porous plastics, Sinterflo® sintered porous metals and Sinterflo® M sintered metal meshes, which can be produced in a wide variety of structures (including flat beds, cones and domes), Porvair Filtration Group is able to fabricate an optimized powder fluidization solution for most applications.
Offering unmatched robustness, compact economic design, easy cleaning and minimal maintenance - Porvair Filtration Group's range of powder fluidization systems is perfectly suited for use with dryers, mixers/blenders, granulators and fluidized beds at high temperatures and in chemically aggressive environments.
For further information or advice on filtration solutions for the powder handling industry, and our design and manufacturing services please contact Porvair Filtration Group on +44-1489-864330 / +1-804-550-1660.