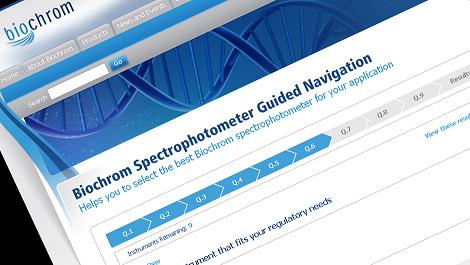 Selecting a spectrophotometer has never been easier as Biochrom launches its new user-friendly guided navigation as part of the company website, to help customers choose the ideal Biochrom spectrophotometer for their application.
The updated website includes details of the company's comprehensive portfolio of high performance instruments, including Biochrom Libra UV-Vis spectrophotometers for industrial, analytical and pharmaceutical laboratories. Biochrom WPA colorimeters and spectrophotometers for education and the life sciences are also included in the knowledge-based selection tool. Visitors to www.biochrom.co.uk/select-a-spectrophotometer will find extensive online information and a comprehensive technical glossary, all designed to inform instrument selection.
Biochrom is a leading global manufacturer with more than 35 years of experience producing high quality scientific instrumentation. Trusted by customers in laboratories worldwide, the company is also a valued OEM partner to many of the world's finest scientific instrumentation companies.
All Biochrom products are available worldwide through a growing network of committed independent distributors. For more information, please visit http://www.biochrom.co.uk/