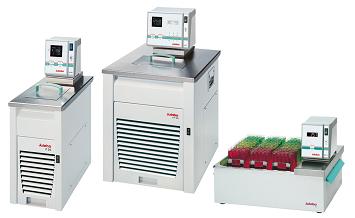 JULABO is pleased to introduce its current program of heating and refrigerated circulators. The three categories Economy, TopTech and HighTech offer solutions for every temperature control application in research and industry.
A selection of 120 models for working temperatures from -95 to 400 °C is available. The broad product range allows users to select models specific to their application requirements; from economic models for routine applications to powerful units with top-level features for highly demanding purposes.
All models are equipped with an intuitive operating interface with user guidance. The design allows users to interface with the circulators using fewer keys affording an easy, consistent operation across the model range. Users will also notice the displays - they are extra bright and can be easily read from a long distance, at an angle and in very bright surroundings. The configuration menus have descriptive scrolling text making it easy to set the various functions.
More improvements have been implemented internally including: temperature calibration and a timer on the economic EH models; temperature display with a resolution of 0,01 °C on the "TopTech" series; warning and error messages reveal additional help text; and a gradient function (preset increase) in the integrated programmer of the "HighTech" series. In addition the units feature innovative functions including; early warning systems for low liquid level and temperature limits, adjustable pump capacities, temperature calibration and much more. The program includes two sensors for pressure and flow measurements.
Measurement data is displayed directly on the circulator or can be read and processed via a RS232 interface. JULABO takes environmental responsibility seriously and is pleased to announce the availability of refrigerated circulators with natural refrigerants.
Refer to the new catalog for further information, now available free of charge by calling +49 (0) 7823 51-180 or at www.julabo.de.