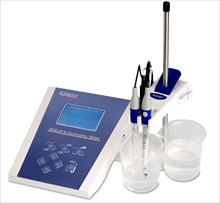 The extensive range of Jenway pH electrodes includes general purpose, application-specific and advanced performance electrodes, complementing Jenway's versatile portfolio of portable and bench pH meters.
In order to provide the ideal electrode for almost any temperature, application, sample type and volume, over thirty different Jenway pH electrodes are available. From life science to environmental, industrial and food-related applications, there are electrodes designed with the exact characteristics required for convenient and accurate pH measurements. Examples include a life science electrode with an extended stem for measurements of samples in test tubes; micro-volume electrodes for small liquid samples and a Tris electrode for pH measurements in biological buffers, blood and protein samples.
For the food industry Jenway offers a spear knife probe for checking the pH of frozen or semi-frozen food, a jam electrode and an electrode with a flat membrane for measurements of food extracts and agar plates. Non-aqueous solutions, oils, biofuels, aggressive chemicals and low ionic strength solutions can all be tested using different specialised electrodes from the Jenway range.
Jenway provides a wide choice of high quality portable and laboratory pH meters, from the basic 3505, which is ideal for use in education, to the advanced 3540, a combined pH and conductivity meter, ideal for research laboratories. The bench meters have a compact footprint, tough chemical-resistant case, adjustable viewing angle and can be wall-mountable if required. There is a three-year warranty on all pH meters and probes are covered by a six month warranty.
For more info visit
www.jenway.com
About Bibby Scientific
One of four new companies established by Nova Capital from the former Barloworld Scientific business which it acquired in November 2007, Bibby Scientific Limited focuses on the design, manufacture and distribution of four world-leading benchtop laboratory equipment brands: Jenway
®
, Stuart
®
, Techne
®
and Electrothermal.
The 2011 acquisition of Electrothermal, market leaders in heating mantle design and manufacture, adds an extensive range of outstanding products which complement Bibby Scientific's broad-based portfolio.
All four brands are available through good laboratory distributors worldwide and Bibby Scientific Ltd has subsidiaries in the USA, France, Italy and Singapore, as well as an associated company in the Middle East.