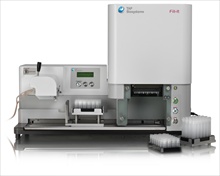 TAP Biosystems, (the new corporate identity of The Automation Partnership), a leading supplier of innovative automation and consumables for life science applications, is pleased to announce it has installed a Fill-It
TM
, benchtop automated vial filling system at Life Technologies, one of the world's largest suppliers of cell lines and reagents for life science research. The Fill-It system will be used to improve the accuracy of processing large batches of cryovials and will reduce the risk of staff acquiring a repetitive strain injury (RSI).
Scientists at Life Technologies installed the Fill-It to produce a batch of around 2000 cryovials containing a proprietary new product once every three weeks. The product being dispensed into the vials is temperature sensitive so operatives have to uncap, fill and recap vials and put them in the freezer quickly to maintain optimum product quality.
Scientists at Life Technologies looked at automation with the Fill-It because an assessment by their environmental health and safety (HSE) department considered that based on the amount of capping and uncapping required in this batch process there was a significant RSI risk. Then using the
Occupational Safety and Health Administration calculator for injuries
, Life Technologies' HSE department estimated the costs for one strain injury would exceed the cost of the instrument."
Dr Declan Donovan, Program Manager Synthetic Biology at Life Technologies commented: "Since there is so much stress on the wrists involved when you try to uncap and recap 2000 cryovials in such a short time, a technician would almost certainly sustain RSI."
Dr Donovan added: "We assessed three options, ranging from full automation, which would have been very expensive, through to the use of hand tools for uncapping vials and decided for our application and budget the Fill-It system was the right choice."
Stephen Guy, Fill-It Product Manager at TAP Biosystems stated: "We are delighted our Fill-It system will be helping Life Technologies to keep their technicians safe, while improving dispensing accuracy. Their confidence in the Fill-It system is an excellent example of how responsible biotech and pharma companies needing to generate large batches of cells or reagents in cryovials can cost-effectively enhance quality, without compromising the health of their staff."
For more information about TAP Biosystems visit
www.tapbiosystems.com