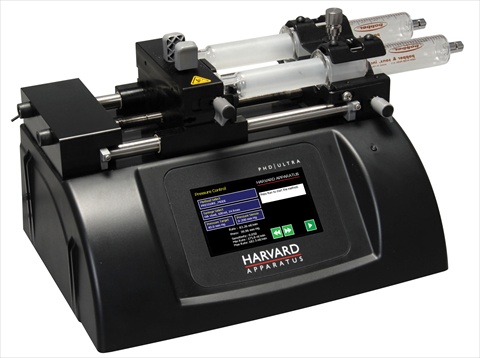 Harvard Apparatus, the world leader in syringe pumps, has just released the NEW PHD ULTRATM CP Syringe Pump. This pump is the first of its kind to infuse fluids under Constant Pressure by automatically adjusting the flow rate.
The PHD ULTRA
TM
CP will provide enhanced capabilities for many experiments and is ideal for a variety of Constant Pressure applications including:
Organ perfusion studies requiring constant physiological conditions
Ocular injections and perfusions
Small animal whole-body perfusions
Constant pressure microfluidic mixing
Introduction of chemical reactants in a controlled manner
A Constant Pressure Syringe Pump Technology Advance, the PHD ULTRA
TM
CP couples to virtually any commercially available pressure transducer/amplifier with a 0-10V output to deliver fluids with an applied force of up to 1,000 lbs with <±2% pressure accuracy.
World-renowned for accuracy and reproducibility, all PHD ULTRA
TM
CP syringe pumps are infuse/withdraw models and are offered in a variety of configurations and force/pressure ratings to meet and exceed your research needs.
For more information visit
www.harvardapparatus.com
or contact the Harvard Apparatus Technical Support Department at
techsupport@harvardapparatus.com
or call (800)272-2775 to discuss your application.