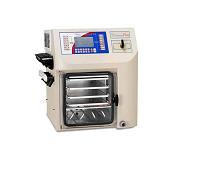 Genevac Ltd, world leader in solvent removal technologies, has chosen Analytica 2010 in Munich, Germany to launch new capabilities for its ROCKET Evaporator and to display SP Industries high productivity AdVantage Plus Freeze Drying system.
Based on Stand 506, in Hall B2, product specialists from Genevac will be available to discuss and propose solutions to optimally concentrate or remove solvents from almost any sample safely and productively.
Visitors to Stand 506 will be able to see the Puck - a new accessory that extends the sampling versatility of the Rocket Evaporator to simultaneously accommodate up to 18 Accelerated Solvent Extractor (ASE®) tubes. This new development makes the system ideally suited to environmental, food and agricultural scientists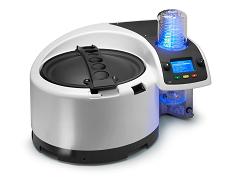 that commonly employ solvent extraction techniques and require concentration of extracted samples prior to analysis. Benefiting from a patented low temperature, low pressure steam heating technology - the ASE Compatible Rocket Evaporator is able to uniquely achieve the dual goals of very fast evaporation with very precise temperature control thereby accelerating the safe concentration of extraction samples. Evaporation of ASE tubes is fast, safe and provides excellent recoveries of even the most volatile analytes. In addition proprietary Dri-Pure® technology prevents solvent bumping and cross contamination inherent with rotary evaporator and other vacuum evaporation systems.
Also on display will be the fast and efficient AdVantage Plus Freeze Dryer. AdVantage Series Freeze Dryers incorporate proven freeze drying technology in the smallest possible footprint. These compact, affordable units are loaded with functions that enable materials to be processed quickly, efficiently, and conveniently. As user friendly as they are sophisticated, an animated synoptic display provides operational status including alarm information at a glance. An optional Wizard workstation enables all aspects of the lyophilisation cycle to be precisely controlled, monitored, recorded and presented in graphic format.
The latest technical and applications information on other Genevac products including the miVac biological sample concentrator, EZ-2 Personal Evaporator, high performance HT Series II Evaporators and Freeze Drying systems will be available on request.
Genevac, an SP Industries company, was founded in 1990. Today the company employs around 85 people, with manufacturing, R&D and marketing headquartered in Ipswich, UK. Genevac today offers a comprehensive portfolio of evaporators to suit almost any solvent removal application, purchasing budget or productivity requirement.
For further information please visit Analytica 2010 or contact Genevac on +44-1473-240000