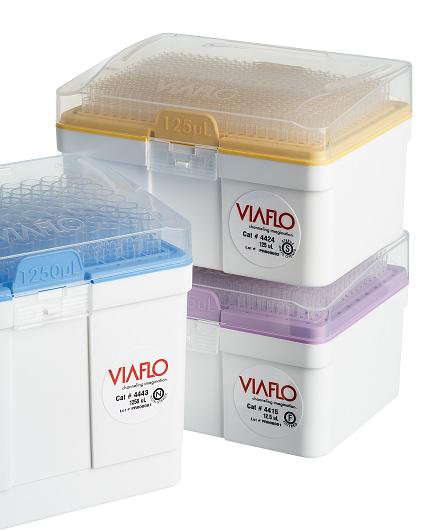 Developed by INTEGRA VIAFLO - GripTips
TM
are a next generation range of pipette tips that ensure the perfect connection between pipette and tip.
GripTips have been engineered to provide unmatched high lateral resistance. As a result, pipette tips will never fall off while pipetting. Benefiting from unique Tri-Lobe Fittings, GripTips deliver low attachment and ejection forces enabling comfortable, stress-free pipetting even over extended periods of use. GripTips deliver a precise and consistent tip seal ensuring that all tips on a multichannel pipette are precisely at the same height; increasing the accuracy and precision of each multichannel dispense.
Available in five volumes (12.5µl, 125µl, 300µl, 1250µl and 5000µl) GripTips come in stackable racks, GREEN PACK environmentally friendly inserts or bulk configurations (non-sterile, sterile and filter sterile). To enhance ease of use - GripTips feature color-coded inserts that correspond to the volume ranges of the INTEGRA VISION and VOYAGER pipettes. The 12.5µl and 125µl GripTips come in racks of 384, so the same tips and the same rack can be used with single, 8, 12 or 16 channel pipettes. Produced from certified virgin medical grade polymer materials, using precise and consistent manufacturing techniques, GripTips provide consistent, excellent results.
INTEGRA provides a complete range of handheld pipetting systems offering accurate liquid handling from 0.5µl to 100ml. To learn more about PIPETBOY, VISION, VOYAGER and other exciting liquid handling products from INTEGRA please visit:
http://www.integra-biosciences.com/liquid_handling_e.html
.
Today, INTEGRA innovative lab tools are widely used all around the world. More than sixty distribution-partners form a worldwide sales network providing responsive and competent services to customers. These distribution partners are supported by a highly motivated and experienced team of specialists at the company headquarters in Zizers, Switzerland and Hudson, USA. INTEGRA is an ISO 9001:2000 certified company.
For further information on GripTips
TM
please contact INTEGRA Biosciences AG on telephone +41-81-286-9530. In the USA please contact Viaflo Corporation on telephone +1-603-578-5800