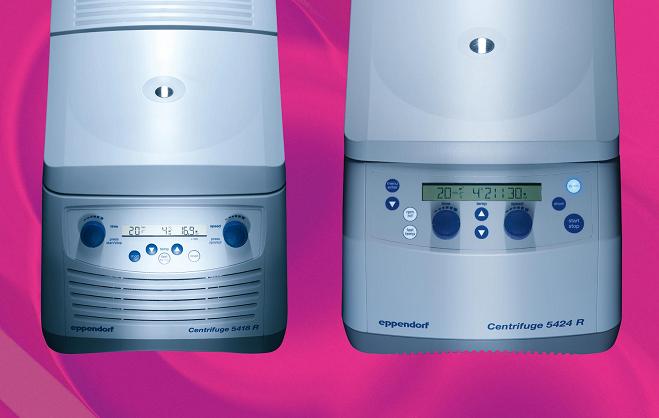 Eppendorf's refrigerated 18 and 24-place microcentrifuges add coolness to Eppendorf's Silence | Speed | SimplicityTM philosophy for centrifugation. With a small footprint, exceptionally quiet operation and a FastTemp function for quick pre-cooling, Centrifuges 5418 R and 5424 R set new standards for refrigerated microcentrifuges.
The overall design and operating concept for these products are based on in-depth ergonomic studies, making everyday routines faster and easier. The iconic Eppendorf blue rotary knobs enable quick, intuitive setting of parameters, and the low access height allows easy loading and unloading of rotor and samples. A colour-coded aerosol-tight rotor is included as standard with both models, for enhanced laboratory safety, and even when operated without the rotor lid, noise levels are surprisingly low.
The economical entry-level refrigerated Centrifuge 5418 R is ideal for routine molecular biology applications. With 18 places for 1.5/2.0 mL tubes, maximum speed is 16,873 x g (14,000 rpm) and the unique QuickLockTM rotor lid saves time when opening and closing. Temperature range is 0 ºC to +40 ºC, with a constant +4 ºC at maximum speed and continuous cooling after centrifugation for optimal sample condition.
Centrifuge 5424 R is a versatile and powerful 24-place refrigerated model, available with either rotary knobs or an easy-to-clean keypad. Temperature range is -10 ºC to +40 ºC, with a guaranteed +4 ºC at the maximum speed of 21,130 x g (15,000 rpm) and continuous cooling at the end of the run. Additional rotor options include a special Kit rotorTM for 18 x spin columns, designed with an extra high rim to support open tube lids during centrifugation, as well as a special PTFE-coated rotor for increased chemical resistance and easy cleaning.
According to Peter Schreiner, Product Manager Certification, 'In addition to delivering high performance for excellent reproducibility of results, these two new products offer many time-saving features. Simplicity of operation, the ability to operate quietly without the rotor lid, and a FastTemp function which cools the microcentrifuges quickly, for Centrifuge 5424 R from ~21 ºC to 4 ºC in only 8 minutes - all contribute to an increase in laboratory efficiency.'
Both 5418 R and 5424 R benefit from Eppendorf's patented compressor technology which reduces vibrations and protects samples. Applications for these microcentrifuges range across molecular biology, biochemistry and biotechnology, from isolation of DNA, RNA or proteins and pelletizing of cells, to aerosol-tight centrifugation of infectious samples.
For further information please click here
Eppendorf UK, headquartered in Cambridge, is a subsidiary of Eppendorf AG, Hamburg, Germany, a leading global supplier of systems and research tools for the biotechnology industry. With over 2,500 employees on four continents, Eppendorf AG achieved a turnover of £368m (€433m) in 2009 and operating profits (EBIT) of £61.4m (€72.2m).