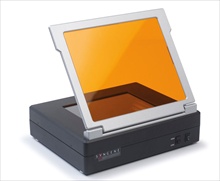 Syngene, a world-leading manufacturer of image analysis solutions, today introduced the UltraBright-LED transilluminator, a new generation of blue light transilluminator designed for safely imaging fluorescently labelled gels (up to 20cm x 16cm) on the bench or inside Syngene G:BOX imaging systems.
The UltraBright-LED uses two high intensity LED arrays which produce uniform, bright excitation at 470nm, and can illuminate dyes that excite at 420 to 480nm. Therefore, the system is suitable for visualising small amounts of Ethidium Bromide and non-toxic DNA stains including Syngene's new UltraSafe Blue
TM
dye, SYBR Safe and GelGreen, as well as protein stains such as SYPRO Ruby and Pro-Q Diamond. Since the UltraBright-LED uses blue light, researchers imaging non-toxic stains can use the system directly on the bench and as it is compact and light weight it takes up very little space and is easy to move.
The UltraBright-LED features a special filter in its lid which enhances band contrast and provides optimum viewing conditions. The transilluminator has been designed to easily slide in and out of any Syngene G:BOX imaging system, making the UltraBright-LED ideal for visualising faint bands, allowing precise band cutting and production of high quality images for analysis and publication.
Laura Sullivan, Syngene's Divisional Manager stated: "Blue light transilluminators are an alternative to UV when scientists work with non-toxic fluorescent dyes. The advantage of using blue light is that it is a "safe" light source which can be used on the bench, as it is not as harmful as UV and does not photo-nick DNA samples."
Laura continued, "We are delighted to introduce the UltraBright-LED blue light transilluminator as it complements our UltraSlim-LED transilluminator for use in Syngene's In:Genius
3
and U:Genius
3
gel doc systems. The UltraBright-LED transilluminator when used in combination with a G:BOX system, is an excellent tool for researchers looking to generate outstanding gel images without compromising their DNA quality or their safety."
For further information visit
www.syngene.com/blue-light-transilluminators/