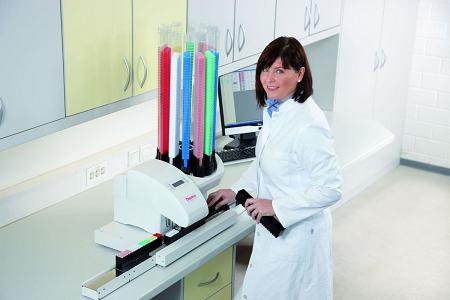 Thermo Fisher Scientific Inc., the world leader in serving science, today announced a new automated solution that labels and tracks patient tissue samples on cassettes and slides as they progress through pathology laboratories. The new solutions include the Thermo Scientific SlideMate on-demand slide printer and the Thermo Scientific PrintMate automated cassette printing system. These innovations preserve the integrity of tissue samples by removing the risk of sample mix-up, ensuring that patients receive a quick and accurate diagnosis of diseases such as cancer.
The misidentification of samples poses a risk of misdiagnosis to thousands of patients annually and can be a result of cassettes or slides being labeled incorrectly in the laboratory. The new inclusive workflow eliminates errors caused through the manual labeling of slides and cassettes, ensuring the efficient diagnosis of diseases and making safety a priority when handling patient samples. The SlideMateTM and PrintMateTM solutions ensure the integrity of results by performing effective labeling so that samples taken into the laboratory for processing are not misidentified.
PrintMate offers fast, centralized batch printing at the workstation to automatically label cassettes and ensure samples are identified accurately. The high-quality printing capabilities of the instrument enable each cassette to be clearly marked with a 2D barcode and readable text. As a result, cassettes can be archived and retrieved without any risk of label deterioration, meaning that the user and the patient can be confident that the correct sample has been identified. In addition, the instrument's innovative collection chutes avoid sample mix-up as they can be positioned to deliver cassettes to different cut-up benches.
SlideMate prints barcodes and text directly onto microscope slides to track and identify samples. The instrument rapidly prints easy-to-read, permanent black type of high print quality, making the printer ideal for printing both linear and 2D barcodes, as well as having the capability to print graphics and logos if required. The printed slide is also resistant to laboratory chemicals, protecting barcodes and text so they always remain readable, avoiding sample mix-up and misdiagnosis. The instrument also generates slides at individual workstations, improving accuracy and reducing identification errors.
The complete labeling and tracking solution also includes the CheckMateTM verification system and LabWriterTM software. Thermo Scientific CheckMate performs automatic checks on samples to eliminate the risk of sample mix-up during batch printing at both the cut-up bench and microtome. The system replaces time-consuming and error-prone manual or visual checks performed on samples, ensuring result integrity. For example, audible and visual alerts provide immediate proof that samples match to avoid confusion. By recording the full event history of the sample, users can see that each sample has been through the relevant workflow processes without any error or mix-up. Thermo Scientific LabWriter is a single platform software solution for all labeling requirements. The software allows users to quickly familiarise themselves with the operation of several types of printers and easily enter data for large batches or produce single cassettes and slides on demand.
Giulio Cerroni, vice president of Anatomical Pathology commercial operations in Europe, the Middle East and Asia Pacific, Thermo Fisher Scientific said: "The new complete Thermo Scientific labeling and tracking solution enables our customers to work more efficiently and accurately with tissue samples, making their work safer and eliminating errors that can occur through manual labeling. This means instrument users and patients can be confident that diseases such as cancer are being diagnosed correctly and as rapidly as possible."
For more information about Thermo Fisher Scientific's labeling and tracking solutions, please call + 44 (0)800 018 9396 or visit www.thermo.com/pathology
Thermo Scientific is part of Thermo Fisher Scientific Inc., the world leader in serving science.