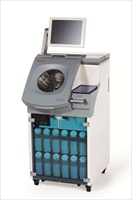 Thermo Fisher Scientific Inc., the world leader in serving science, today introduced the Thermo Scientific STP 420
ES
Tissue Processor for high-throughput tissue processing. This new tissue processor enables faster turnaround times for same-day diagnosis and leaner workflows through operational flexibility. Using a dual chamber design, which features unique rotational agitation that increases flow of traditional reagents by seven-fold to reduce processing times, the STP 420
ES
can process up to 420 cassettes per run. Holding 360 and 60 cassettes in the first and second chambers respectively, the second chamber allows independent processing of STAT samples, as well as special or difficult tissues, without disrupting routine workflow or requiring the use of a second instrument.
By performing multiple runs per day and two protocols simultaneously, a laboratory using the STP 420
ES
can benefit from increased processing capacity and superior agitation with no additional capital expenditure. Furthermore, when used in combination with the Thermo Scientific Fast Flex range of reagents, the new tissue processor can cost-effectively halve traditional processing times to only 4.4 hours for 5mm specimens and under one hour for biopsies. This is all done while continuing to provide the highest-quality results.
Compared to other tissue processors, the STP 420
ES
offers higher performance with the flexibility to increase or decrease processing speeds as desired, leaving the laboratory and its staff in complete control of its workflow. Additionally, the control and monitoring of both chambers is provided simply via a single touch-screen user interface.
For further information, please visit
www.thermoscientific.com/pathology
.