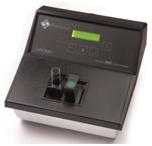 Sherwood Scientific recently shipped 61 Model 260 Programmable Colorimeters to, Azza Medical Services Co., who successfully won a tender opportunity to supply Sherwood Colorimeters and Clinical Model 410 Flame Photometers to the Sudan
Destined for a number of hospitals within the Sudan, the Model 260 can be utilised for a wide variety of clinical chemistry tests. These "open" system colorimeters can store up to 100 programmes with options to adjust and set all parameters commonly found in colorimetric protocols; thereby lending themselves to use with most commercially available reagent kits. The instruments shipped were each supplied with a set of eight drop in gelatine filters. Each is thereby capable of performing colorimetric tests across the whole visible wavelength spectrum.
The basic design of Sherwood Scientific's colorimeters has been stable for several years and has gained an enviable world-wide reputation for rugged performance. For the 21st century Sherwood Scientific updated its colorimeters with a comprehensive firmware package unique in this class of instrument. The Model 260 Colorimeter offers features not elsewhere available and provides solutions to the requirements of quality control, water testing and especially for the clinical chemist for low sample runs. The Model 260 Programmable Colorimeter replaced the CHROMA 257
RS232 output allows use with a serial printer and every result, blank and calibration is time stamped. Quick Absorbance and Transmission measurements with Auto-Zero, Concentration with Standard Solutions or Factor, and Kinetic Reaction Rate and End Point methods are all possible.
Model 260 Colorimeters can be supplied with a battery lead allowing utilisation of the colorimeter in field hospitals where the only power source may be the battery of the vehicle in which the clinical technician arrived.
For further information please click here