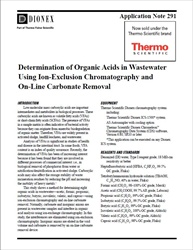 Thermo Fisher Scientific is pleased to announce a new combined method for the accurate determination of organic acids in a wastewater sample. Application Note 291:
Determination of Organic Acids in Wastewater Using Ion-Exclusion Chromatography and On-Line Carbonate Removal
demonstrates that ion-exclusion chromatography excludes the inorganic anions present in the sample. A Thermo Scientific Dionex
Carbonate Removal Device
(CRD 200) is also needed to remove carbonate on line. Inorganic anions and carbonate can interfere when determining organic acids in wastewater using anion-exchange chromatography.
Inorganic anion interferences can be eliminated easily by using ion-exclusion chromatography because they are excluded from the column (i.e., not retained). Carbonate is naturally present in wastewater and can interfere with organic acid determinations, even using ion-exclusion chromatography, due to the fact that carbonate is a weak acid that is retained by the column.
This application and many others can be found at
www.thermoscientific.com/dionex
under the
Documents tab
.
About Thermo Fisher Scientific
Thermo Fisher Scientific Inc. is the world leader in serving science. Our mission is to enable our customers to make the world healthier, cleaner and safer. With revenues of $12 billion, we have approximately 39,000 employees and serve customers within pharmaceutical and biotech companies, hospitals and clinical diagnostic labs, universities, research institutions and government agencies, as well as in environmental and process control industries. We create value for our key stakeholders through three premier brands, Thermo Scientific, Fisher Scientific and Unity
TM
Lab Services, which offer a unique combination of innovative technologies, convenient purchasing options and a single solution for laboratory operations management. Our products and services help our customers solve complex analytical challenges, improve patient diagnostics and increase laboratory productivity.
All trademarks are the property of Thermo Fisher Scientific Inc. and its subsidiaries.