There is no need to risk your company reputation. Sterileware® Sense-able Scoops® metal and x-ray detectable plastic sampling tools are now available in industry standard blue color.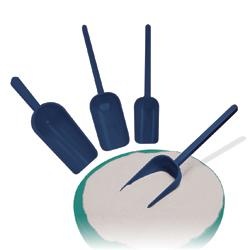 Now available in industry recognized blue color for metal and x-ray detectable tools,
Sterileware® Sense-able Scoops® metal and x-ray detectable plastic sampling tools
are designed to prevent risking company reputation and costly product recalls.
"If a scoop inadvertently gets into the production process, metal detection and X-ray equipment can sense the presence of the scoop, or scoop fragments as small as 1.6mm3, so that quality assurance operators can take the required steps to resolve the situation before it is too late," says Robert Petersen, Product Manager for Bel-Art Products. "Detection of the scoops by such means is paramount to preventing expensive product recalls, which can permanently tarnish the reputation of a company and its products in the minds of consumers."
Originally offered only in black, the new blue color is recognized as the unofficial color associated with metal and x-ray detectable tools and still provides a visual contrast within the processing facility allowing operators to easily detect the scoops via visual inspection.
Available in 60ml (2oz), 125ml (4oz) and 250 (8oz) sizes, these sterile scoops are made of FDA grade polystyrene plastic and are safe for food, drug and cosmetic contact. A proprietary mixture of stainless steel powder is incorporated into the polystyrene for detection purposes.
All scoops are individually packaged, lot stamped for accurate tracing, ready for one time use and disposal, and come with a Certificate of Sterilization.
Although designed to work with most metal detection and X-ray equipment, testing is recommended to ensure compatibility. Users can call 1-800-4BEL-ART or
visit our website
to request a free scoop for testing.
Suggested list price for blue Sterileware® Sense-able Scoops® Sampling Tools in the 2oz size, catalog no. H36902-0006, is $160.65 for a case of 100. The 4oz scoops, catalog no. H36904-0006, and the 8oz scoops, catalog no. H36906-0006, have a suggested list price of $246.00 and $416.40 respectively per case of 100.
For more information on the Sterileware® Sense-able Scoops® Sampling Tools, or the complete line of laboratory offerings from Bel-Art Products, call 1-800-4BELART, email
info@belart.com
or visit
www.belart.com
.
To request a FREE copy of the Bel-Art Products 2011 Catalog,
click here
.
Bel-Art Products simplifies tasks with innovative product solutions for science, industry and healthcare. Over 2000 items from safety wash bottles to fume hoods are manufactured and marketed under well-known brand names including Scienceware® laboratory products, Spinbar® magnetic stirring bars, Magic Touch
TM
icewares, Sterileware® sampling tools, Secador® desiccator cabinets, KLETT® colorimeters, and Poxygrid® racks. Established in 1946, Bel-Art Products is a United States based manufacturer headquartered in Wayne, NJ.