Thermo Fisher Scientific is pleased to announce a new Ion Chromatography (IC) method developed by Covance Laboratories Inc. for the total determination of free and total myo-inositol in foods, feeds, and infant formulas.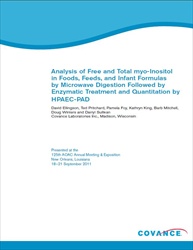 The novel approach developed by Covance application chemists uses microwave-assisted acid hydrolysis followed by enzymatic treatment and quantitation by high performance anion-exchange chromatography and pulsed amperometric detection (HPAED-PAD) using a Thermo Scientific Dionex ion chromatography system and carbohydrate analytical columns (Thermo Scientific Dionex CarboPac columns).
The approach measures all sources of total myo-inositol content of a product thus eliminating uncertainties associated with other methods that try to measure only certain bioavailable sources of inositol and exclude less bioavailable sources. This novel IC method provides significantly greater precision and accuracy, a lower level of quantitation and less susceptible to matrix interferences to successfully analyze a wider range of samples than the previously used method.
View more details
on the method and conditions in the Covance poster, Analysis of Free and Total myo-Inositol in Foods, Feeds, and Infant Formulas by Microwave Digestion Followed by Enzymatic Treatment and Quantitation by HPAEC-PAD.
About Thermo Fisher Scientific
Thermo Fisher Scientific Inc. is the world leader in serving science. Our mission is to enable our customers to make the world healthier, cleaner and safer. With revenues of $12 billion, we have approximately 39,000 employees and serve customers within pharmaceutical and biotech companies, hospitals and clinical diagnostic labs, universities, research institutions and government agencies, as well as in environmental and process control industries. We create value for our key stakeholders through three premier brands, Thermo Scientific, Fisher Scientific and Unity
TM
Lab Services, which offer a unique combination of innovative technologies, convenient purchasing options and a single solution for laboratory operations management. Our products and services help our customers solve complex analytical challenges, improve patient diagnostics and increase laboratory productivity.