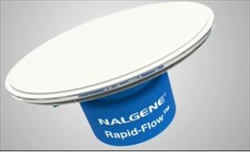 Thermo Fisher Scientific Inc., the world leader in serving science, today announced the availability of the new Thermo Scientific Nalgene Rapid-Flow Filter, which enables faster filtration of cell-culture media. All Thermo Scientific Nalgene filter units and bottle-top filters will now incorporate the Nalgene Rapid-Flow
TM
membrane support system.
The Nalgene Rapid-Flow design maintains membrane stability, providing better performance and increased flow rates for faster throughput of media.
Most filters use a radial spoke design to support the filter membrane. The wide space between the spokes allows the membrane to be displaced during filtration, which can stress the membrane and distort its pore structure. The result is suboptimal flow rate and throughput. In contrast, the Nalgene Rapid-Flow uses an array of evenly spaced columns that are close enough together to provide uniform support of the membrane, yet far enough apart to allow rapid filtration, resulting in improved flow rate and throughput.
"We are very excited to share this new technology with our customers," said Dennis Gorlick, senior product manager, lab ware and specialty plastics, Thermo Fisher. "With this advancement, we are providing a product that increases filtration flow rate and throughput while providing a last line of defense against contamination, especially for cell-culture applications. The Rapid-Flow Filter will help our customers save valuable time in the lab."
For further information
click here
About Thermo Fisher Scientific
Thermo Fisher Scientific Inc. is the world leader in serving science. Our mission is to enable our customers to make the world healthier, cleaner and safer. With revenues of $12 billion, we have approximately 39,000 employees and serve customers within pharmaceutical and biotech companies, hospitals and clinical diagnostic labs, universities, research institutions and government agencies, as well as in environmental and process control industries. We create value for our key stakeholders through three premier brands, Thermo Scientific, Fisher Scientific and Unity
TM
Lab Services, which offer a unique combination of innovative technologies, convenient purchasing options and a single solution for laboratory operations management. Our products and services help our customers solve complex analytical challenges, improve patient diagnostics and increase laboratory productivity.