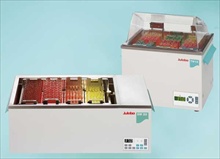 JULABO offers high-quality water baths for diverse purposes with a working temperature range from 20 to 99.9 °C. They feature easy operation, space-saving design, a large selection of trays and racks and high-quality manufacturing. Powerful heaters of up to 2 kW ensure rapid heat-up. Warning and cut-off functions ensure maximum safety of sensitive samples.
The
TW series
features 4 models with a filling volume of 2 to 26 liters. All models are completely splash-proof and provide a temperature stability of ±0.2 °C. The user-friendly keypad and bright LED display make operation of the TW models easy and comfortable.
The shaking water baths of the
SW series
feature adjustable shaking frequencies of 20 to 200 RPM, a high temperature stability up to ±0.02 °C, an electronic timer and RS232 interface. The large bath opening permits integration with a variety of trays and racks. The shaking carriage can be removed.
Lift-up Makrolon
®
covers are available for all models providing dust protection and reduction of volume loss due to evaporation. JULABO offers a wide range of accessories for both series.
For further information please visit www.julabo.de