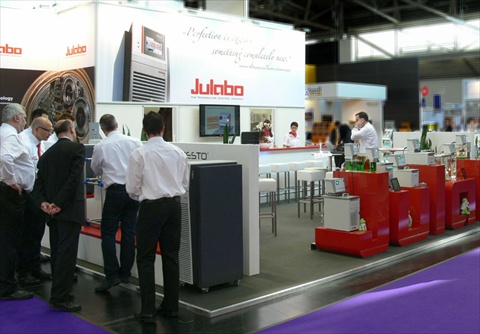 Several Innovations for Professional Temperature Control
JULABO will present an array of new products at ACHEMA 2012 (18 through 22 June). The Temperature Control Company will introduce a brand new generation of Refrigerated & Heating Circulators. At the JULABO booth visitors are welcome to check out several new models of the all-new, state-of-the-art PRESTO
®
series of highly dynamic temperature control systems. Another highlight that will be on display is an ingenious PRESTO
®
accessory for flow measurement and control. Yet another novelty will be an entirely new family of low cost recirculating coolers/chillers.
Of course JULABO will give a comprehensive overview of the entire spectrum of professional temperature control solutions.
JULABO staff is looking forward to welcoming you. Come and witness the exciting live act that will create a delicious atmosphere. Participate in the daily prize drawing for an iPad. Chilled beverages and snacks will be provided for refreshment. The JULABO booth will be located in
Hall 4.2, Booth No J38
.
Germany-based JULABO is a worldwide leading manufacturer of high-quality, innovative temperature control solutions for an extensive range of scientific, research, and industrial applications.
For further information visit
www.julabo.de