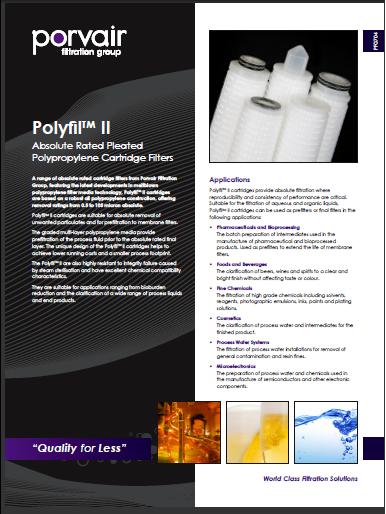 Porvair Filtration Group, a world leader in filtration and separation technology, has announced the publication of two new technical brochures adding to its comprehensive online library of product and applications information.

The new 4-page technical documents provide an informative introduction to Porvair's popular Microfil and Polyfil filter product ranges. Each document includes a descriptive introduction, target applications use, key features and benefits, construction data, technical specifications, chemical compatibility and quality assurance information.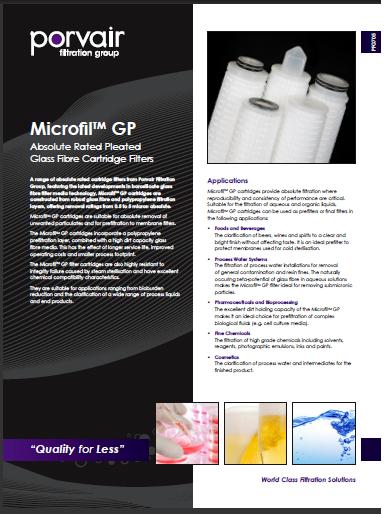 Microfil is a range of absolute rated, pleated glass fiber filter cartridges that can be used as both a prefilter and a final filter. Microfil filters have been designed to safeguard products by employing a high efficiency melt blown polypropylene layer downstream of the glass fiber media, whilst still offering the benefits of glass fiber media. Microfil cartridges are available as single or multiple module units of 5, 10, 20, 30 and 40 inches, in a range of three particle retention ratings: 0.5, 0.8 and 1.0 microns absolute - Beta 5000 (99.98% efficiency).

Polyfil cartridges are the filter of choice for organizations seeking absolute removal of unwanted particulates and for prefiltration to membrane filters. The unique high surface area pleated polypropylene design of Polyfil cartridges helps to achieve lower running costs and a smaller process footprint. Polyfil cartridges are also highly resistant to integrity failure caused by steam sterilization and have excellent chemical compatibility characteristics.

For copies of the new technical data sheets please visit www.porvairfiltration.com or contact Porvair Filtration Group on +44-1489-864330 / +1-804-550-1600.
Porvair Filtration Group is an international leader in the development and supply of materials and products for applications in filtration and separation. Their expertise in a wide range of media and the dedication of their design, manufacturing, sales, test and research teams ensure they are at the forefront of filtration technology, delivering world class performance to the Aerospace, Defence, Nuclear, Energy, Chemical Process, Industrial Process, Water Treatment, Printing and Life Science markets. With offices and manufacturing sites located in the UK, Europe and the USA combined with a world-wide network of market representatives and distributors, they pride themselves on their continuous innovation and research to meet global demands.