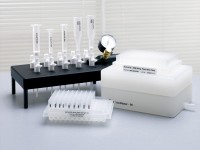 Biotage, a leading supplier of tools and technology for medicinal and analytical chemistry, now offers two product lines, which perform very well in solvent systems such as MeOH, MTBE, and ethyl acetate. With the current shortage of Acetonitrile and availability now worsening this is important news. Biotage's polymer-based cartridges and 96-well plates are designed for Solid phase extraction (SPE) of acidic, basic and neutral compounds, providing efficient removal of salts, proteins, and phospholipids with a Methanol/Water generic methodology.
EVOLUTE ABN can be applied to a wide range of compounds with a single method. The EVOLUTE CX is a mixed mode hydrophobic/ionexchanger, optimized to give increased selectivity of basic compounds. Both phases are suitable for a range of industries including pharmaceuticals, clinical, forensic, toxicological, food, environmental, food safety and chemical.

ISOLUTE SLE+ (supported-liquid-extraction) plates and columns are designed for aqueous samples and mimic traditional liquid-liquid extraction. The ISOLUTE SLE+ and ISOLUTE HM-N employ water-immiscible solvents such as MTBE, ethyl acetate and DCM to achieve isolation of the desired analytes. Endogenous compounds that often interfere with mass spec detection are efficiently removed with this technique. The format is compatible with automated instruments for increased throughput and performance.
For more information on the EVOLUTE range of products and the ISOLUTE SLE+ plates, please email product_info@biotage.com or visit www.biotage.com