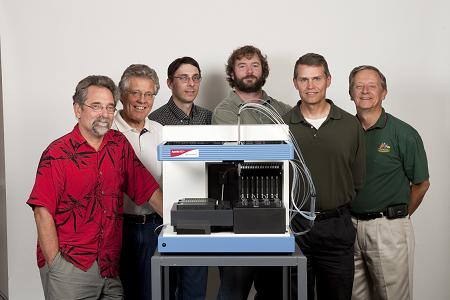 IntegenX, Inc., California, USA, has used Tecan's Cavro® Mini Sample Processor (MSP) 9250 as the basis for an automated Sanger sequencing sample preparation platform. The Apollo 100 Sanger Sequencing Automation system uses the Cavro MSP 9250 to automate bulk liquid transfers, interfacing directly with IntergenX's patented MOVeTM microfluidic technology to enable users to work with small volumes, from 10 nanoliters to 100 microliters. James Nelson, Marketing Director at IntegenX, explained: "With Sanger sequencing, the major 'pain point' for the researcher is the expense of both the Big Dye® and clean-up reagents. The process is relatively expensive when performed manually, but, once automated with a microfluidics chip, the reagent volumes used can be dramatically reduced, meaning that the initial cost of automation pays for itself through the substantial reagent cost savings generated."
"Sample volumes for manual methods are typically in milliliters, and the Apollo 100 system provides an easy-to-use interface between the 'macro world' and our microfluidic technology that handles microliter to nanoliter volumes. To transfer samples from macro to micro we required a robotic system that was highly reliable and robust. Tecan was a name our customers knew and trusted, and the Cavro MSP matched our needs really well. It was very straightforward to integrate into our system, and Tecan provided all the technical support we needed. We are now planning to incorporate Tecan's robotic liquid handlers into future products based on our MOVe technology, including exciting solutions in the field of next generation sequencing," Mr. Nelson concluded.
To find out more on Tecan's Cavro MSP platform, visit www,tecan.com/Cavro MSP
To find out more on IntegenX, Inc., visit http://www.integenx.com
Big Dye is a registered trademark of Life Technologies, Inc.