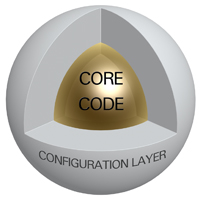 Comprehensive and genuine configurability, without writing custom code or using a programming script, is a rare commodity in the LIMS business but it is the key to a successful LIMS implementation.
Genuine configurability, without custom code, means that a LIMS can be designed quickly to represent user requirements in terms of workflows, screen designs, menu designs, terminology, report designs and much more. It also avoids the need for users to change their normal working practices in order to meet the restrictions of their chosen LIMS. Compromises caused by lack of system configurability are the most common reasons for failed LIMS projects and/or dissatisfaction with the system supplied.
Configuration tools ensure that a LIMS can keep pace with the changes needed as the customer business develops. Changes may include, for example, the introduction of new products requiring additional or modified work flows or changes in the IT strategy within an organisation. Whatever the reason for change a huge amount of time and money can be saved if the chosen LIMS is adaptable to new requirements using system configuration tools. The only alternative would be to replace the LIMS or involve the vendor or a contractor in writing more custom code. This option probably means a significant outlay of valuable time and money.
Matrix Gemini LIMS is supplied with the most comprehensive set of tools that allow genuine system configuration without the need for custom coding. Users do not need programming skills to master these tools - often a 3-day training course is all that is required. The existing workflows in your laboratory can be configured into Matrix Gemini, providing a user interface that all users will find familiar.
An unlimited number of workflows can be configured in Matrix LIMS - it is rare for a laboratory to have just one workflow. This means that the screens, for example, can be designed for a specific workflow which eliminates optional fields and greyed-out menu items. This approach results in a user-friendly system ensuring that users adopt the system quickly and that training costs are minimal.
Configuration in Matrix LIMS is also used to define how screens are linked together to create a sequence of events directly related to the customer work pattern.
Terminology used in a system is often a key element in user-friendliness. The translation table in Matrix LIMS is amazingly simple using an A = B approach. A is the term the system uses, B is the term that you, the customer, wants to use. This can be English to English translation or English to another language translation. Result - a user friendly and relevant system.
The system configuration of Matrix LIMS is stored in the database and hence upgrades do not affect the system appearance and existing functionality. This is a real benefit compared to systems where custom code has been written. With Matrix LIMS the core software can be upgraded to the latest version providing new functionality and technology without any concerns about the system configuration.
For more details contact
matrix@autoscribe.co.uk
or visit
http://autoscribeinformatics.com/matrix-gemini/configurable-lims