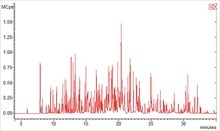 A recent article, originally published in "Innovations in Food Technology" (November, 2011), has been made available online at ScionHasArrived.com. Authored by Zicheng Yang & Kefei Wang, experts from Bruker's Chemical and Applied Markets division (Fremont, California) the article explores the globalization of food supplies, and discusses how manufacturers and other businesses are coping with the extensive need for food testing. This increased testing is as a consequence of contamination and spoiling incidents exposed by media coverage, as well as consumer concerns. Surveillance has been stepped up by Governments and regulatory agencies, with locally produced food as well as imports under scrutiny.
Laboratories involved in the detection and identification of contaminants and trace-level compounds in food are challenged with an ever increasing list of compounds under scrutiny. With daily sample load increasing, many labs are looking for an easy to use solution that can improve turn-around time, and at the same time improve sensitivity and maintain assay robustness.
This article describes a gas chromatography mass spectrometry (GC-MS/MS) approach for detection of 258 pesticides in a vegetable matrix after extraction using the QuEChERS (Quick Easy Cheap Effective Rugged and Safe) method. The ease of method set-up, and the sensitivity, linearity and precision of the GC-MS/MS system are demonstrated.
To view the publication visit
http://www.scionhasarrived.com
Bruker, Bruker Chemical Analysis and QuEChERS are registered trademarks of Bruker Corporation.