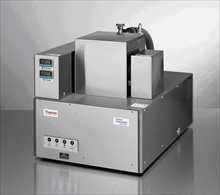 Thermo Fisher Scientific Inc., the world leader in serving science, today announced enhancements to its Antaris Industrial Gas System (IGS) that improve performance, speed, ease-of-use and sensitivity. The Antaris IGS now offers faster scan speeds (to 5 Hz at 0.5 cm-1 resolution) and enhanced electronic and communication capabilities to support more rapid scanning. Based on Thermo Fisher Scientific's renowned Nicolet 6700 Fourier transform interferometer, the Antaris IGS is an FTIR-based analyzer capable of monitoring dozens of gases simultaneously while providing accurate and fast multi-component gas analysis. It is a highly configurable gas analyzer that is used in a wide scope of industrial analyses, particularly in emerging green energy applications such as landfill methane gas analysis. The Antaris IGS is also ideal for the ever-changing needs of the automotive, chemical and environmental industries.
Landfills provide ideal conditions for methanogenesis, with landfill gas comprised of approximately 40-60 percent methane. Today, significant amounts of waste are slowly decaying under the ground in landfill sites, and methane is produced for years after sites are closed. As this methane escapes, either directly into the atmosphere or by diffusion through the cover soil, it greatly contributes to global warming. To mitigate this issue, many landfills deploy gas collection systems that not only prevent escape, but also capture high-quality, contaminant-free gas for use in power generation.
The new Antaris IGS is a key part of this process, providing fast, sensitive and reliable monitoring of landfill methane gas so it can be reused as a source of green energy.
Thermo Fisher Scientific offers pre-calibrated gas analysis methods for the Antaris IGS, allowing users to quickly deploy it without extensive setup and calibration delays. Operated using the Thermo Scientific RESULT software, the Antaris IGS includes easy-to-use tools for routine analysis, method development, method transfer, operation setup and data analysis.
The Antaris IGS is highly configurable, offering a choice of detectors, gas cells and other components that enable users to tailor the system to fit the needs of a range of challenging gas analysis applications. The analyzer is available in both industrial rack-mount and table-top configurations, and it can be used as a standalone unit or be incorporated into a larger gas analysis system.
Brian Davies, vice president and general manager of molecular spectroscopy and microanalysis, Thermo Fisher Scientific, comments: "At Thermo Fisher Scientific, we always value our customers' feedback and use it as a basis for creating the next scientific innovations. Developed with input from industry market leaders, the new Thermo Scientific Antaris IGS offers a solution to specific and demanding gas analysis needs. This multi-component gas analyzer combines fast scan speeds for gas analysis in an industrial design for rapid and repeatable results. It is cost-effective, easy-to-use and dependable."
For more information on the capabilities of the new Thermo Scientific Antaris IGS analyzer, please email
analyze@thermofisher.com
, call +1800-532-4752 or visit
www.thermoscientific.com/igs
.
Thermo Scientific is part of Thermo Fisher Scientific, the world leader in serving science.