Chromatrap®, a business unit of Porvair Sciences, has announced a new web page that brings together protocols developed using their proprietary solid state chromatin immunoprecipitation (ChIP) technology.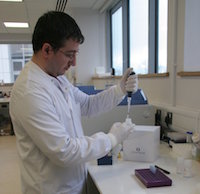 The new web page provides scientists with optimised ChIP methodologies for qPCR, high throughput qPCR, sequencing, high throughput sequencing and enzymatic chromatin shearing using Chromatrap® kits.
Chromatrap® is a ground breaking technology that offers a quicker, easier and more efficient way of undertaking ChIP assays. Chromatrap® kits for qPCR use revolutionary Chromatrap®Protein-A or Protein-G spin columns which contain discs of an inert, porous polymer to which protein A/G has been covalently attached. During an assay, the chromatin/antibody complex is retained by the disc. Flushing with three buffers and an elution step are all that is required to obtain the DNA fragments of interest. Operating without the use of magnetic or agarose beads all but eliminates non-specific background and drastically reduces manual handling error and sample loss. Optimized elution buffer chemistry allows samples to be analysed directly in qPCR without the need for DNA clean up, further reducing sample loss.
Chromatrap® is a business unit of Porvair Sciences, a wholly owned subsidiary of Porvair plc. Drawing on over 25-years' experience of microplate manufacturing, Porvair Sciences has developed a high-throughput bead-free ChIP assay based on its filtration devices containing the proprietary Chromatrap chemistry. Chromatrap enables epigenetic screening to become a reality in many laboratories and eliminates many of the long and laborious steps previously undertaken in such work.
---
---
more news from porvair sciences
---