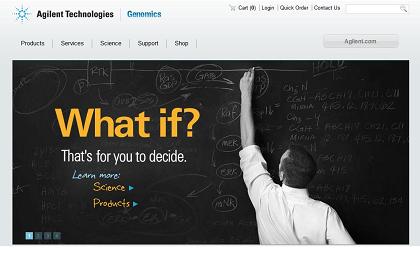 Agilent Automation Solutions has a proven track record of successfully automating a diverse array of laboratory processes, and offers a range of targeted application solutions for Genomics laboratories.
This information is summarized in the automation section of an informative new website dedicated to Genomic Research (
http://genomics.agilent.com
).
Agilent's broad automation product family ranging from standalone instruments to fully-integrated systems enables customers to automate simple (but time-consuming) tasks such as labeling, centrifugation, and sealing to entire complex processes such as PCR prep and clean up, microarray sample preparation, and next generation sequencing library creation.
Agilent have developed optimized automation systems that allow you to increase the number of reactions you can perform in parallel, drastically reducing the amount of sample processing time and increasing the number of samples each researcher can process while reducing the amount of sample-to-sample variability.
From stand-alone units to fully integrated systems, Agilent Automation Solutions brings together key sample preparation and creative walk-away automation approaches with personalized customer service to provide complete solutions for your laboratory. Combining innovative engineering with high standards of quality, Agilent designs and manufactures high-performance equipment for processes that are revolutionizing pharmaceutical, biotech, and genomic research