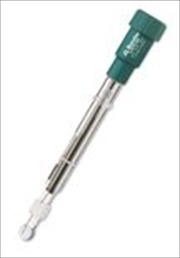 Every electrode measures an analog signal (mV or μA), which is converted into a digital signal that can be evaluated by the software. In case of classical electrodes the analog signal is transmitted to the analog/digital converter in the titrator. Although this cable is well shielded, the signal can be affected by external electrostatic influences. In case of iTrodes the analog to digital converter is located in the 854 iConnect that is connected to the electrode head and therefore is close to the origin of the signal. The cable connection to the titrator transmits a digital signal, which is not affected by external influences. This results in a much lower signal noise compared to a classical sensor.
Unlike conventional analog electrodes the Metrohm iTrodes are equipped with a memory chip. This chip contains read-only data that cannot be altered and can store user specific data. The read-only data includes, besides others, an individual correction factor for temperature measurement, the article and serial number, which allows the clear identification of each sensor.
The serial number of the sensor is saved in the database entry along with the method, the system parameters and the serial numbers of all other devices. This guarantees full traceability of the results. Furthermore, the chip can store the calibration data and even the calibration and sensor history. The user can specify the calibration validity interval and the expiry date of the sensor itself. This ensures that the user always works with a well calibrated sensor. Since all these data are stored on the chip in the sensor, the data is available at each titration system that is used with the sensor. All of Metrohm's current Titrando range of titrators have intelligent electrodes as standard.
For further information please
click here