Members Login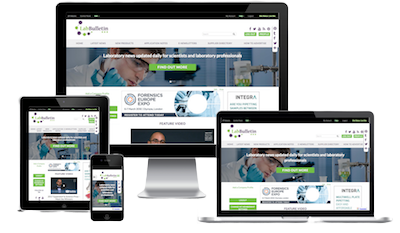 Monthly Newsletter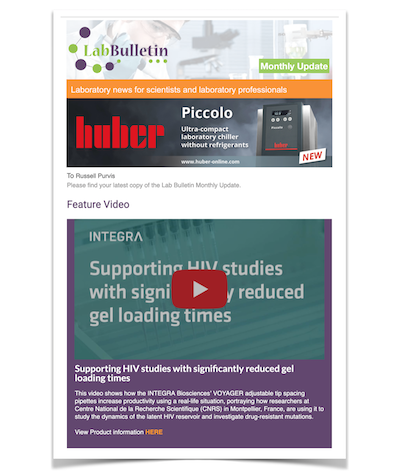 Special Offers and Promotions
Microscopy | Image Analysis
New Multidiscussion System - Identical images for up to twenty-one observers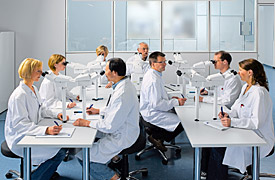 Carl Zeiss has launched a new multidiscussion system for Axio Scope and Axio Imager light microscopes. This enables up to 21 persons to view the same object microscopically at the same time. The image generated under the microscope is seen by all observers with an identical image orientation in a 23 millimeters field of view. The co-observation system is suitable for training and consultation situations. Especially in the field of medicine it can be used, for example, in the training of students and postgraduates or for consultation purposes and joint assessment of difficult specimens in medical diagnostics.
In medical training the direct impression of the microscope image is often preferred to a photograph or monitor display because finer structures, and color nuances in particular, that can be important for the diagnosis, can frequently be better recognized in a microscope image. The benefits offered by the multidiscussion system are particularly useful for histologically stained transmitted-light tissue sections or blood smears.
The 23 millimeter field of view provides all users with a good overview of a large specimen section. Regardless of the configuration of the system, every observer sees the same image with the same orientation. All structures to which the main observer refers on the microscope lie in exactly the same way in the co-observer's field of view.
Further advantages of the multidiscussion system include not only the fast and flexible possibility of increasing the number of co-observer workstations, but also easy adaptation to existing conditions at the site of use. As every configuration can be implemented with standard stages, no expensive special stages are required. The co- observer workstations can be configured either in a straight line or at as many right angles as required. As each tube is supported by its own column in its center of gravity, the system is extremely stable.