Members Login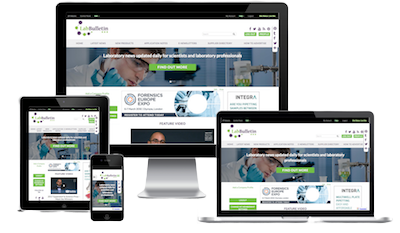 Monthly Newsletter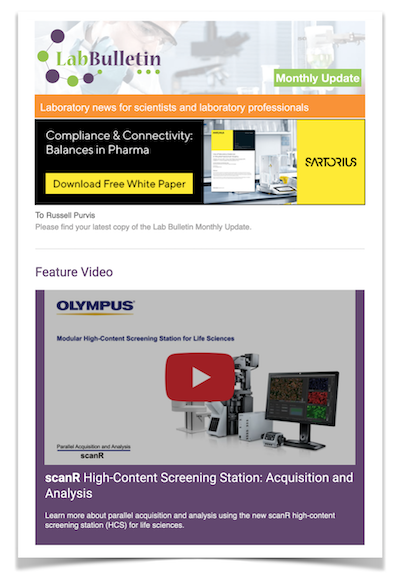 Special Offers and Promotions
Microscopy | Image Analysis
Antisense Pharma Leads Session on TGF-ß at GEN Drug Discovery Summit at Biotechnica 2010
publication date:
Oct 7, 2010
|
author/source:
b3c newswire
During this year's BIOTECHNICA exhibition, the international biotech news magazine "GEN - Genetic Engineering & Biotechnology News" yesterday on 5 October 2010, held an information event with subsequent panel discussion featuring the topic "TGF-ß - an important target in cancer diseases." Followed by industry representatives and journalists, national and international clinical and research experts reported on the latest findings concerning the tumor factor Transforming Growth Factor beta (TGF-ß) and the status of drug development fighting this tumor-specific drug target. John Sterling, Chief Editor of Genetic Engineering & Biotechnology News: "Growth factors, such as VEGF, PDGF etc. have been known for more than 30 years and the TGF-ß growth factor is involved in several malignant pathways. But what about the development of therapeutics against this important oncological target? With this session we wanted to place TGF-ß into the spotlight of public perception and provide the opportunity to learn more about this fascinating protein family." The session was led by Dr Hubert Heinrichs, Chief Medical Officer at Antisense Pharma GmbH.
Role of TGF- β in aggressive cancer diseases
Prof. Peter ten Dijke, professor of molecular cell biology at Leiden University, The Netherlands opened the session by giving an introduction about TGF-β and its role in aggressive cancer diseases. Ten Dijke graduated in 1991 based on his research on the identification of the third isoform of TGF-β and since then he has become one of the international leading TGF-β experts. Currently his laboratory analyses the molecular mechanisms by which TGF-β family members elicit their cellular effects via (co)receptors and intracellular SMAD effectors, and how subverted TGF family signaling is involved in cancer, vascular and bone diseases. "The secreted molecule TGF-β is involved in several cell communication pathways", ten Dijke explained. "Subverted TGF-β signaling has been implicated in multiple diseases, including cancer, fibrosis and cardiovascular illnesses. TGF-β and cancer were linked from the beginning: Highly aggressive tumors produce huge amounts of TGF-β - which enhances migration and metastasis of tumor cells, mediates angiogenesis and is known as one of the strongest immunosuppressors."
The development of anti-TGF- ß drugs means a challenge
Then Dr. Piotr Jachimczak, physician and senior scientific advisor at Antisense Pharma, informed about therapies targeting TGF-β. In his doctoral thesis 1992 he had already demonstrated for the first time that the targeted inhibition of mRNA encoding TGF-β2 by antisense oligodeoxynucleotides may reverse glioma-derived immunosuppression. The long-term goal of his translational research is to develop an anti-TGF-β strategy to treat advanced, late-stage cancer. "On a global scale, different approaches of anti-TGF-beta strategies in cancer are pursued", Jachimczak explained. "Different TGF-β inhibitors such as small molecules, monoclonal antibodies and various other technologies are under development. The phosphorothioate oligodeoxynucleotide trabedersen has so far been clinically most successful: it inhibits the production of isoform TGF-β2 by binding to its mRNA. It shows a very good safety and compatibility profile both when applied locally and systemically, and promising efficacy data in particular in the indications of malignant brain tumors, pancreatic cancer and malignant melanoma.
Anti-TGF-β2 compound trabedersen convinces due to very good clinical results in high-grade glioma
PD Dr. Peter Hau, section leader of the NeuroOncology group, Department of Neurology at University of Regensburg confirmed the potential of trabedersen. According to his scientific interests that are glioma, brain tumor initiating cells, tumor metabolism, transforming growth factor beta (TGF-β) and antisense technologies, Dr. Hau served as principal investigator and national coordinator in several clinical trials of the EORTC and the German NeuroOncology Working Group (NOA). He presented the results of the completed, randomized, active-controlled clinical Phase IIb study of trabedersen in high-grade glioma. "A significantly higher tumor control rate of trabedersen treated patients with anaplastic astrocytoma was observed at 14 months when compared to patients who had received standard chemotherapy", Dr Hau described one of the outcomes. "Similarly the overall response rate at 14 months was significantly higher and the two-year survival rate was clearly improved under trabedersen with 83.3% versus 41.7%. Importantly, these trabedersen effects were associated with a median overall survival benefit of 17.4 months versus standard chemotherapy." These results impressively show that TGF-β2 silencing is a promising approach in tumor therapy and could serve the high unmet medical need. The current situation for the treatment of malignant brain tumors is still insufficient: Despite surgical tumor resection, radio- and chemotherapy, the tumor recurs in almost all cases and most patients unfortunately die within less than a year after recurrence.
"Our current clinical results reinforce our impression of having found in trabedersen an agent which offers patients with aggressive cancer diseases an urgently required treatment option ", Dr Hubert Heinrichs, CMO at Antisense Pharma and chairman of the session summed up. Reason enough for Antisense Pharma to look ahead optimistically. "Based on the Phase IIb data, we already started an international pivotal Phase III study in recurrent or refractory AA patients (SAPPHIRE). Also the evolving results in pancreatic cancer and malignant melanoma are very encouraging."
At the end of the session, Gen's Edition, John Sterling, made note of the positive results of Antisense Pharma's study. "Antisense Pharma is an excellent example of how determined biotechnology companies can focus their R&D efforts to advance the development of innovative anti-cancer drugs."
About Genetic Engineering & Biotechnology News (GEN)

GEN has retained its position as the number one biotech publisher around the globe since its launch in 1981. GEN publishes a print edition 21 times a year and has additional exclusive editorial content online, like news and analysis as well as blogs, podcasts, webinars, polls, videos, and application notes. Additionally, GEN hosts a networking platform called GENconnect, which comprises Communities such as All Things PCR, Next-Generation Sequencing, Biomarkers, and more. GEN's unique news and technology focus includes the entire bioproduct life cycle from early-stage R&D, to applied research including omics, biomarkers, as well as diagnostics, to bio-processing and commercialization.
About GEN Drug Discovery Theatre at Biotechnica 2010
GEN sponsors a "Discovery Theatre", which features a series of 45-minute panel discussions each led by a moderator. The focus is on the development and application of novel drug discovery tools, techniques, methodologies, strategies, and products.
Since large pharmaceutical companies have seen their own new drug pipelines dry up, technology transfer of promising newly discovered compounds from academia and small biotech companies to international drug firms will be a key topic of discussion. A wide range of scientific and technical issues will be explored, including those involving ADME/TOX, assay development, biomarkers, gene expression, microarrays, nanotechnology, PCR, RNAi, next-generation sequencing, cell based assays, lead discovery and validation, and many more.
About Biotechnica
BIOTECHNICA is Europe's leading annual event for biotechnology and the life sciences. It covers the entire spectrum of biotechnology, including fundamentals and equipment, bio-informatics and services, and addresses all five major fields of application, i.e. pharmaceuticals/medicine, industrial manufacturing, food, agriculture and the environment.
About Antisense Pharma GmbH
Antisense Pharma is a biopharmaceutical company located in Regensburg, Germany. The company focuses on targeted therapies for malignant tumors and is dedicated to discovering and developing drugs based on antisense technology for worldwide commercialization. The medications specifically block the synthesis of key cancer proteins. Antisense Pharma has clinical trials running that involve patients with brain tumors, advanced pancreatic carcinoma, malignant melanoma and colorectal carcinoma. An international pivotal Phase III study in anaplastic Astrocytoma patients (SAPPHIRE) is ongoing. Therapies for other indications are under preclinical development. The company has been honored with the German Founder's Award and the Bavarian Innovation Award and in 2009 received the Innovation Prize TOP 100. For further information on Antisense Pharma please visit http://www.antisense-pharma.com/.