Members Login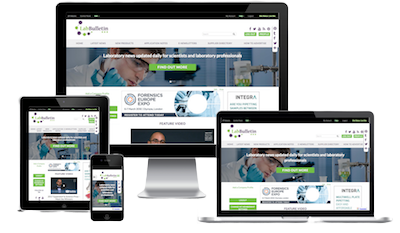 Monthly Newsletter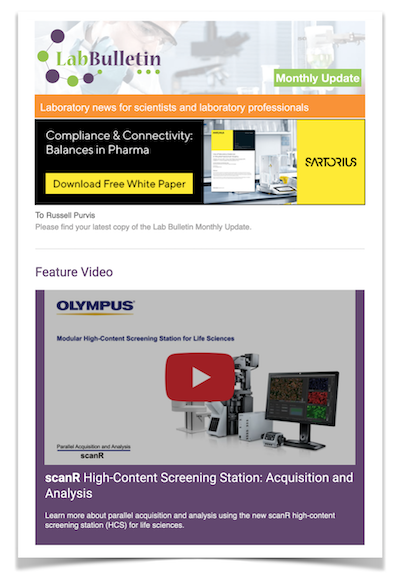 Special Offers and Promotions
Microscopy | Image Analysis
High-Precision Electronic and Mechanical Balances and Scales on display at Analytica
publication date:
Mar 30, 2016
|
Visit OHAUS Hall B stand 137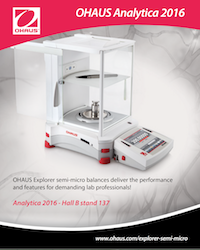 OHAUS manufactures an extensive line of high-precision electronic and mechanical balances and scales that meet the demands of virtually any weighing need. The company is a global leader in the laboratory, industrial, and education channels as well as a host of specialty markets, including the food preparation, pharmacy and jewelry industries. OHAUS products are precise, reliable and affordable, and are backed by industry-leading customer support.
Thirty-five years ago OHAUS created the portable electronic balance market with the introduction of the Port-O-Gram balance. In 1996 OHAUS pushed the boundaries of portable weighing even further with the introduction of the Scout series. Since its introduction, the Scout has evolved with faster readability, higher capacities, new features, and more applications. Its reliability, durability, precision, and flexibility to serve different markets have made it a customer and dealer favorite for twenty years.
The recently introduced all-new Scout features the first touch-screen in a portable balance, fast stabilization, superior overload protection, and new connectivity options.
Focused not only on portable balances, over the past several years, OHAUS presented multiple Explorer balance models, that have helped set a new definition of what modern weighing and measurement means in today's science, research and development landscape. The newest addition to the Explorer Series, the Explorer Semi-Micro, brought the Explorer Series' trademark ingenuity and intuition to applications requiring extreme precision, down to 0.01mg. Explorer Semi-Micro has been designed for professional use in which accuracy of results is of the utmost importance.
OHAUS portfolio covers a wide range of Analytical, Precision, Portable balances, Moisture Analysers, Industrial, Food and Mechanical Scales. We hope to be able to present you our company and products during Analytica 2016, from May 10-13 in Munich.
Please visit us at: Hall B stand 137
---
---
---