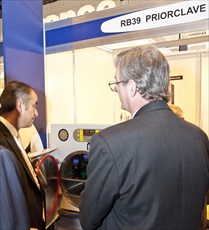 Paul Richardson, business development manager at Priorclave was delighted to welcome Professor Lord Darzi, the UK's Global Ambassador for Health and Life Sciences to the company's stand at the recent Medlab exhibition at the World Trade Centre, Dubai in January.
Priorclave, a first time exhibitor at this event were delighted with the amount of interest shown in its range of top-end laboratory autoclaves, according to Paul "visitors interest was equally divided between our compact bench-top autoclaves and the larger free-standing models including our very popular front-loading 150L."
The Priorclave 150L model is part of a range used extensively throughout laboratories in business sectors of food, drink, dairy, pharmaceutical, agricultural, education, healthcare and research establishments. The Dubai show was the ideal opportunity to showcase exclusively the larger model to buyers and users in the medical laboratory sector where Priorclave autoclaves have proven ideal for sterilising applications in media preparation, liquids and diluents, waste, glassware, instruments, apparatus and healthcare.
Professor Lord Darzi (pictured left) was introduced by Paul (pictured right) to Priorclave's popular compact 60L bench-top autoclave when visiting the stand - a model that provides a level of setting and operating flexibility usually only available in larger units.
The 60L autoclave may be compact however it is big on features, the door is fully interlocked for safety with a special gate mechanism which cracks the gasket seal allowing any residual pressure to escape safely. A thermal cooling lock, preventing the door from being opened until the contents have cooled to a safe temperature is also fitted along with a pressure interlock. A low water level sensor, to guard against boil-dry conditions and a safety blow down valve afford further protection. They also feature epoxy coated panels and frame members are treated with the unique Biocote® anti-bacterial agent, which is effective against all bacteria and fungi including MRSA.
For further information please visit www.priorclave.co.uk
Priorclave's venture to the Medlab show seems to have been a huge success, the business leads generated are keeping Paul and his team extremely busy since their return to the UK.