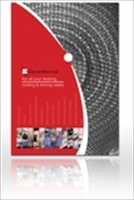 Electrothermal, a Bibby Scientific company, now has its first-ever catalogue, complementing the Electrothermal website launched last summer.
In addition to showcasing the entire range of heating, cooling and stirring equipment for laboratories, Electrothermal's newly published catalogue features three recent innovations. STEM Integrity 6 Reaction Station is a top-of-the-range product with superb accuracy and independent heating and stirring control at each of its six reaction cell positions. A much-loved product in the US, the Mel-Temp Melting Point Apparatus has been completely rejuvenated for a worldwide market, and the IA9000 series Melting Point Apparatus benefits from a major specification upgrade.
Electrothermal's famous heating mantles revolutionised heating of round bottom flasks many years ago and the company now offers more than 50 varieties of Electromantles, DigiMantles and Multi-Mantles. Speciality items such as Kjeldahl equipment for protein analysis in food, heating cords and tapes for the process industry and a range of equipment aimed at histology and pathology laboratories are also available. The catalogue lists a full range of controllers for laboratory equipment, stirrers, Melting Point Apparatus, three ranges of reaction stations - Omni, RS and Integrity - and Electrothermal's well-known Electric Bunsen, the modern version of the old-style Bunsen burner.
Peter Day, General Manager of Electrothermal commented: 'Believe it or not, we've been in business for 70 years and doing well without a catalogue in all that time. Whilst that must say something about the quality of our products, we also recognise that our customers want to see our full range of products in a convenient and easy to digest format. So here it is, the first Electrothermal catalogue!'
For further information visit www.electrothermal.com
About Bibby Scientific
One of four new companies established by Nova Capital from the former Barloworld Scientific business which it acquired in November 2007, Bibby Scientific Limited focuses on the design, manufacture and distribution of four world-leading benchtop laboratory equipment brands: Jenway®, Stuart®, Techne® and Electrothermal. The 2011 acquisition of Electrothermal, market leaders in heating mantle design and manufacture, adds an extensive range of outstanding products which complement Bibby Scientific's broad-based portfolio. All four brands are available through good laboratory distributors worldwide and Bibby Scientific Ltd has subsidiaries in the USA, France, Italy and Singapore, as well as an associated company in the Middle East.