This year's focus was on finance and innovation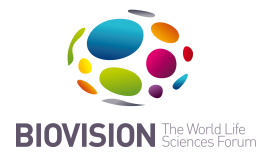 The businesses who took part sought over EUR 230 million in funding and met a range of high-level industry representatives and investors. As a part of France-China 50, the Forum attracted high-level experts and introduced a new series of open sessions for the general public.

Save the date for BIOVISION 2015, in Lyon on April 9 and 10

BIOVISION, the annual life sciences forum organized by the Fondation pour l'Universite de Lyon, today announces the winners of the Catalyzer and Investor Conference awards.

The 'Immunotherapy and vaccines' Catalyzer award was won by the Myasterix project led by Nicolas Havelange, scientific coordinator. Myasterix is developing a therapeutic vaccine for myasthenia gravis. http://www.myasterix.eu

The 'Healthy ageing' Catalyzer award went to the Silicomics project led by Francois Berger, director of Clinatec. This project involves an innovative theranostic platform for neurodegenerative diseases. http://www-leti.cea.fr/en/Discover-Leti/Innovation-platforms/Plateforme-Clinatec

The winner of the Biotech Investor Conference award was GenSight Biologics, a biopharmaceutical company pioneering the development of gene therapy treatments for degenerative retinal disease. http://www.gensight-biologics.com

The Medtech Investor Conference award went to CellNovo, a company developing an insulin micro-pump for insulin-dependent (type I) diabetics. The device is based on mobile remote connection technology. http://www.cellnovo.com

GeNeuro a biotechnology company developing first-class therapies for diseases associated with endogenous retrovirus expression won the special award. http://www.geneuro.com

The winners received their awards at the BIOVISION closing ceremony, attended by Alain Merieux. The chairs of the judging panels, Marc Bonneville of the Institut Merieux and Holm Keller from Leuphana University in Luneburg, Germany, presented the Catalyzer winners with their awards, while the Investor Conference winners received theirs from Tim Haines of Abingworth and Alexia Perouse of Omnes Capital.

The Investor Conference winners will benefit from the services of consultancy firm Laurent and Charras (Lyon), which will provide support in areas such as intellectual property, mentoring and advice on strategy.

Convened jointly with France Biotech and Lyonbiopole, the BIOVISION Investor Conference brought together start-ups, growth companies and mid-sized businesses with financial and industry partners for a series of discussions, workshops and meetings. Of 63 candidate companies looking for funding, 24 were selected to present their development projects.

BIOVISION Catalyzer, co-hosted with Lyonbiopole, saw presentations on innovative collaboration initiatives from 20 project owners selected from 45 candidates. The two sessions on immunotherapy and 'healthy ageing' gave project owners the opportunity to increase their exposure and meet up with potential partners.

BIOVISION, the international forum with a pivotal role in meeting the challenges and financing developments in future healthcare
Supported by the local authorities of Greater Lyon (the Urban Community of Lyon), France's Rhone department and the Rhone-Alpes region, BIOVISION this year welcomed high-profile figures such as Professor James Barlow, chair of Technology and Innovation Management, Imperial College London; Christian Brechot, chairman of the Institut Pasteur; Seth Berkley, chairman and CEO of GAVI Alliance; Christopher Viehbacher, chairman and CEO of Sanofi and chairman of EFPIA (European Federation of Pharmaceutical Industries and Associations); Paul Stoffels, chief scientific officer at J&J; Professor Stanley Plotkin, University of Pennsylvania; Professor Brigitte Autran, Laboratory of Cellular and Tissue Immunology, INSERM (the French national institute for health and medical research); Dr Laurence Zitvogel, director of Research, INSERM and Institut Gustave Roussy; George Fu Gao, director, Institute of Microbiology, Chinese Academy of Science; Yu Mingde, China Pharmaceutical Enterprises Association and Alexander Von Gabain, chair of the Scientific Advisory Board, European Institute of Innovation and Technology.

Open lectures, introduced this year, offered members of the public the chance to take part in the debate on health.

"The 2014 edition of BIOVISION confirms the success of our new annual format, focusing squarely on providing support for innovation with networking and multiple opportunities for partnership," said Didier Hoch, chairman of Biovision. "The numerous opportunities for collaboration discussed by various stakeholders bode well for the success of future partnerships and the launch of initiatives in the field of life sciences, particularly with China."

Attendees at the various meetings also had many opportunities to meet potential partners.

"The success of BIOVISION 2014 unquestionably enhances the reputation of Lyon and the surrounding region as a location of choice for actors of the life sciences industry," said Alain Merieux, chairman of the Fondation pour l'Universite de Lyon and chairman of the Institut Merieux. "The importance of the Chinese delegation encouraged fruitful meetings, offering the prospect of many joint ventures. China is a major world center of scientific and medical innovation, with proven expertise, good quality higher education and considerable potential in the field of life sciences."

The next edition of BIOVISION will take place in Lyon next April 9 and 10, on the theme of 'Global and individual health: a driver for innovation and economic growth'. The guest countries will be Israel and Switzerland.

About BIOVISION
BIOVISION, The World Life Sciences Forum is dedicated to future-oriented research in the field of life sciences. It has been convened since 1999 by an independent not-for-profit organization, the Fondation pour l'Universite de Lyon. BIOVISION's reach is global. It brings together a large number of leading figures including international decision-makers from the academic, policy-making, private and civil society sectors. It takes place each year in Lyon, France. The multidisciplinary decision-makers jointly reflect on future advances in life sciences. They consider how to convert research discoveries into practical, innovative solutions with public health benefits by directly addressing business models and the funding solutions.
BIOVISION has the support of high-profile public and private partners closely involved in the new format of the event. Local authorities (in Greater Lyon, the urban community of Lyon, France's Rhone department and the Rhone-Alps region) have a long history of commitment to the development and promotion of life sciences in the Rhone-Alps.
To encourage innovation and action, BIOVISION has introduced the 'Catalyzer' meeting, co-organized with world-class bio-cluster Lyonbiopole, which promotes projects coming out of public-private partnerships, and the 'Investor Conference', co-organized with Lyonbiopole and France Biotech to identify promising start-ups and discuss how they can be funded. An online networking platform and on-site meeting areas help to foster dialog.
BIOVISION also includes conferences that are open to all; to disseminate knowledge, raise awareness and engage in dialog around scientific issues and the challenges of tomorrow.
BIOVISION enjoys the support of Greater Lyon (the urban community of Lyon), the Rhone department and the Rhone-Alps region.

BIOVISION 2015 will take place in Lyon, France, on April 9 and 10
---
---
---
more about Fondation pour l'Universite de Lyon
---