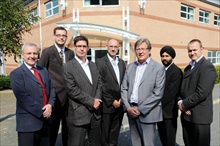 Biofortuna Ltd, a UK-based molecular diagnostics company, today announced that they have signed an exclusive distribution agreement with Abbott's molecular diagnostics business, whereby Biofortuna will design, develop and manufacture a range of freeze-dried HLA-typing kits called SSPGo. Financial terms have not been disclosed.
Under the terms of the agreement, Abbott will obtain exclusive distribution rights in the U.S. and all global territories, apart from France, Spain, Portugal and the Benelux countries, once regulatory approvals are obtained. The agreement includes rights to distribute the SSPGo products, interpretation software Verdict, as well as kit updates and improvements.
Biofortuna has proprietary freeze-drying capabilities resulting in diagnostic kits that are stable at ambient temperature for up to 16 months, eliminating the requirement of refrigerators, freezers and temperature-controlled shipping. The kits one-step procedure - the addition of DNA - offers significant cost and time savings to the end user by reducing labour, consumables and the potential for errors.
As well as developing a number of freeze-dried molecular diagnostic products targeted at the transplantation and pharmacogenetic markets, Biofortuna is developing a portfolio of additional tests with the aim of providing easy-to-use diagnostics that address complex genotyping issues.
Dr Mike Bunce, founder and CSO of Biofortuna said ''We are delighted to have signed this agreement with Abbott. Biofortuna's expertise in HLA and freeze-drying combined with Abbott's sales and marketing infrastructure and excellent customer support, will meet the growing demand for our kits.''
The SSPGo product range is the first freeze-dried HLA-typing kits of its kind. The kits will be available to laboratories outside the U.S. to purchase and order through Abbott in June 2011. The kits are currently CE-marked and have been submitted for U.S. FDA approval.
For further information please visit www.biofortuna.com