Members Login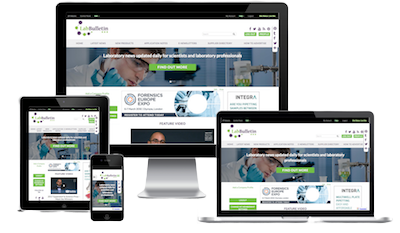 Special Offers and Promotions
Monthly Newsletter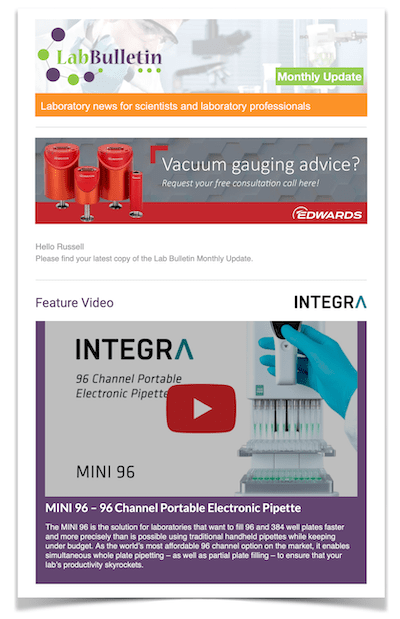 News Channels
Laboratory Products
Microscopy | Image Analysis
Bisphosphonate Pharmaceuticals and Excipients by Capillary IC-MS

Thermo Fisher Scientific has developed a simple, fast, sensitive, and robust capillary ion chromatography (IC) analytical method to simultaneously quantify three bisphosphonate pharmaceuticals (etidronate, clodronate and tiludronate) and three commonly used excipients (benzoate, hydroxybenzoate and citrate).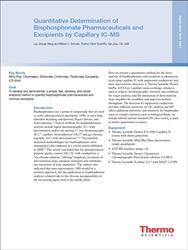 Application Note 1001:
Quantitative Determination of Bisphosphonate Pharmaceuticals and Excipients by Capillary IC-MS
uses a Thermo Scientific Dionex IonPac AS18-Fast
capillary anion-exchange column
to achieve chromatographic retention and resolution for target analytes. The elimination of derivatization steps simplifies the workflow and improves method throughput. Detection by
suppressed conductivity
provides sufficient sensitivity for quality control (QC) analysis and mass spectrometry (MS) offers additional selectivity and sensitivity for bisphosphonates in complex matrices, such as biological fluids.
Bisphosphonates are a group of compounds that are used as active pharmaceutical ingredients (APIs) to treat bone disorders and related conditions, including osteoporosis, Paget's disease, and hypercalcemia.
This application note and many others can be found at
www.thermoscientific.com/dionex
under the
Documents tab
.
About Thermo Fisher Scientific
Thermo Fisher Scientific Inc. is the world leader in serving science. Our mission is to enable our customers to make the world healthier, cleaner and safer. With revenues of $12 billion, we have approximately 39,000 employees and serve customers within pharmaceutical and biotech companies, hospitals and clinical diagnostic labs, universities, research institutions and government agencies, as well as in environmental and process control industries. We create value for our key stakeholders through three premier brands, Thermo Scientific, Fisher Scientific and Unity
TM
Lab Services, which offer a unique combination of innovative technologies, convenient purchasing options and a single solution for laboratory operations management. Our products and services help our customers solve complex analytical challenges, improve patient diagnostics and increase laboratory productivity.
All trademarks are the property of Thermo Fisher Scientific Inc. and its subsidiaries.