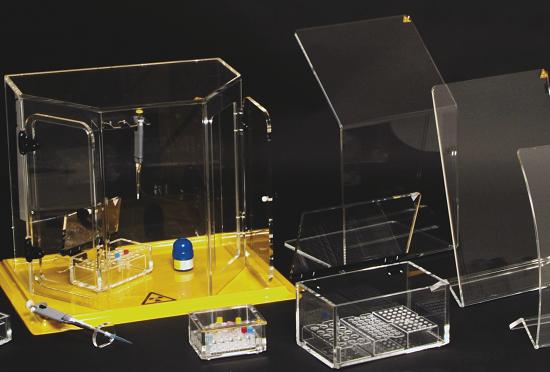 Where life science research laboratory applications and techniques involve radioactive compounds, safe and effective protection for operatives is an essential requirement. For example, techniques involving either beta or gamma emitting materials used in the detection of nucleic acids and proteins, or others such as radioimmunoassay and metabolic studies.
To meet this requirement laboratory supply specialists CLEAVER SCIENTIFIC (CSL) has developed a range of acrylic radiation shielding products, which is acknowledged as being not only one of the largest, but also one of the few ranges of these type of products available in the UK. The range includes over 120 products, including shields, boxes, racks, waste bins, spillage trays and cabinets.
Flexibility and low cost are important requirements for many customers and CSL meets this demand by offering custom-built shields and boxes that are manufactured in a variety of shapes and sizes to match any application or budget. Its storage boxes are ideal for they may hold any type of container ranging from micro-centrifuge tubes to scintillation vials. Drawstring heavy-duty waste bags are also available, while free standing bench top bins with hinged lids and anti-slip feet are ideal for short term storage of radioactive materials.
In addition to the standard 10-mm-thick beta protection and 12mm thick lead impregnated gamma protection shielding is 35mm thick lead impregnated shielding, which provides gamma attenuation equivalent to 1.5-mm-thick lead.
This may be offered in 70-mm-thick shielding that offers gamma attenuation equivalent to 3.0-mm-thick lead.
The key features of CSL protection products are: clear optical construction for unobstructed view; a choice of angle to suit location; the availability of most shields in small and large sizes; large flat base models for under-bench protection and curved base models compatible with safety spill trays; plus boxes and bins available with hinged lids in a variety of designs and sizes. Finally, Cleaver Scientific can provide a DuoShield specifically for those applications which require safe protection from both beta and gamma emissions.
Further details are available from: Alan Philips, Product Manager, Cleaver Scientific Ltd, www.cleaverscientific.com