publication date:
Jan 12, 2016
|
author/source:
Integrated DNA Technologies
PrimeTime

®

qPCR Assays and Master Mix from IDT provide superior efficiencies and reliability for gene expression studies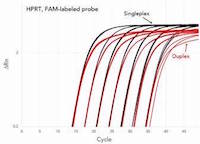 Integrated DNA Technologies (IDT) has introduced its latest addition to an expanding genomic applications portfolio: PrimeTime® Gene Expression Master Mix, an optimized enzyme mix for probe-based qPCR. IDT continues to provide higher value qPCR products by delivering superior assay performance at a lower price per reaction, while empowering customers with access to assay sequences.
This newest product enhances the IDT PrimeTime qPCR product line, as researchers can economically obtain both assays and a master mix that are optimized and validated to work together. PrimeTime qPCR Assays are available with a choice of dyes and quenchers, and the predesigned assays are backed by a performance guarantee. The versatile, stable Master Mix easily integrates into new and existing experimental workflows, because it is also compatible with all commercially available 5' nuclease gene expression assays.
The PrimeTime qPCR Assays and Master Mix deliver accurate, sensitive gene expression analysis with efficiencies >90% in two-step RT-qPCR under both fast and standard cycling conditions. This provides the reproducibility that gives researchers confidence in the quality of their data, whether it be from singleplex or duplex reactions. As highlighted by Sandy Junek, Molecular Lab Manager at Discovery Seed Labs, Canada, "The PrimeTime Gene Expression Master Mix worked very well for us. I was able to use it effectively in a two-target multiplex reaction, with no difference in amplification of the targets compared to the singleplex reactions."
---
---
---