Members Login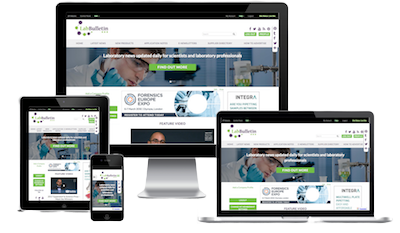 Monthly Newsletter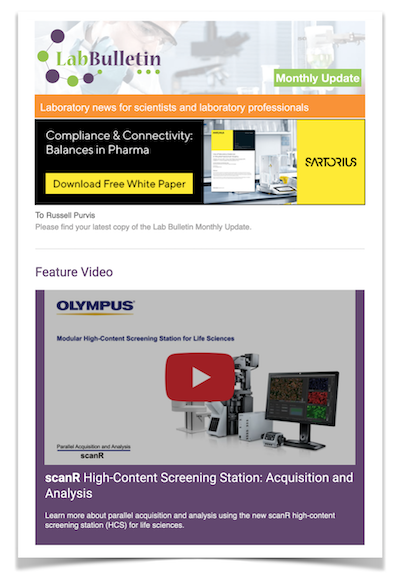 Special Offers and Promotions
Microscopy | Image Analysis
Comprehensive Biorepository of Genomic & Proteomic Tissue Products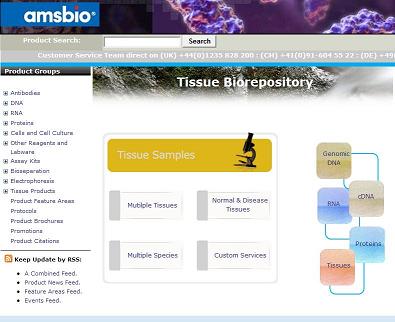 AMSBIO offers a comprehensive range of certified tissue products for genomic and proteomic research including genomic DNA, cDNA, RNA and protein.
All tissue products are produced using rigorous standard operating procedures and through ethical procurement to ensure only the highest quality materials are available in the AMSBIO biorepository (
www.amsbio.com/Tissues-biorepository.aspx
). Samples have been isolated from hundreds of different source tissues including human normal and diseased tissues, and a variety of genetic model organisms including mouse, rat, primate, and plant species. These specimens are provided ready-to-use enabling the immediate study of molecules of interest in many different tissues and eliminating the need for time consuming in-house sample preparation.
The range of available samples includes individual genomic DNA preparations, together with 96 well gDNA plates from tumor and normal tissue for Epigenetics studies. Tissue specific PCR-ready first strand cDNAs, universal cDNA and cDNA panels are available for Gene expression studies. AMSBIO total and universal RNA products are isolated with microRNAs and are available with RIN values, upon request, for Microarray work. Total protein products from normal and disease state tissues add further research possibilities with whole tissue lysates and sub cellular fractions from the nucleus, cytoplasm, cell membrane and cytoskeleton.
These tissue products are produced from AMSBIO's extensive bank of clinical and veterinary specimens that form a unique range of tissue samples in formalin fixed paraffin embedded (FFPE) or snap frozen formats including frozen tissue microarrays. For further information please contact AMSBIO on tel. +44-1235-828200 or email
PhillipP@amsbio.com
.
Founded in 1987, AMS Biotechnology (AMSBIO) is recognized as a leading international provider of unique, innovative products and custom services for life sciences research. The AMSBIO range includes over 23,000 polyclonal and monoclonal antibodies, peptides, recombinant proteins, extracellular matrix, molecular detection reagents, as well as tissue DNA, RNA, protein & microarray products. Key research areas include: apoptosis, cell invasion and migration, cell signaling, DNA damage, electrophoresis, glycobiology, post-translational modification and stem cell biology.