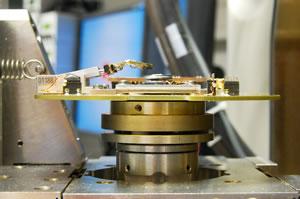 Agar Scientific is pleased to announce the availability of the SuperFlat AFM from Kleindiek to combine the imaging power of SEM and AFM.
The SuperFlat AFM combines the power of SEM and AFM. Information on lateral dimensions and material from in-situ inspection can be complemented by precise AFM topographical and frictional information. The effortless availability of these two sets of data is unique to such a system and opens new avenues of investigation and characterisation.
The most amazing feature of the SuperFlat AFM is its size. The tool is flat and compact enough to fit through the majority of SEM load-locks, allowing ease of use and increasing throughput. In addition, its size offers enormous stability and vibration dampening advantages, which are particularly attractive when using the tool ex-situ.
Design efforts also included ensuring easy handling and tip exchange. A sample or tip exchange takes only a minute and a tedious laser adjustment process is not required. By dispensing with complicated optical force read-out, the system's size could be reduced to a height of 10mm. The small dimensions allow for load lockablility and therefore high sample throughput.
The SF-AFM consists of a micromanipulator and a super flat piezo scanner mounted to a load-lockable platform. The AFM cantilever is mounted to the micromanipulator - which has a resolution of 0.25 nm in X and Y directions and 3 nm in Z direction. Once the cantilever has been positioned over the area of interest, the piezo scanner is used during the AFM measurement. The three-axis piezo scanner has a scan range of 15 um, 15 um, 3 um and a resolution of 0.25 nm. It can be used for AFM imaging as well as for recording force vs. distance curves.
For more details of these and other products, please contact Agar direct. Agar supplies one of the broadest ranges of accessories and consumables for microscopy. The complete range is available in either electronic or printed-catalogue form. To receive your copy, please visit
www.agarscientific.com
and register today.